(Last Updated On: July 11, 2018)
Every meat aficionado knows that some cuts are just better when they're smoked.
The natural smokey flavor. The tender juiciness. The rich aromas.
But to smoke your meat well, you need a good smoker. There are many types of equipment based on how they produce smoke. Everyone has their own preference, but today we're focusing on one popular category: wood pellet smokers.
If you're new to smoking and/or new to the pellet smoker, here's what you need to know.
Pellet Smoker Basics
As you might have guessed, a pellet smoker uses wood pellets as its fuel. These pellets are made from compressed sawdust. Unlike charcoal, they don't have additives and fillers so they leave very little ash behind.
While wood pellets produce great results with little risk of over-smoking, they do have their challenges. You need to find the right temperature balance because pellets produce more smoke at lower temperatures.
One more clarification: You may hear about pellet smokers and pellet grills. These terms are typically used for the same products. However, pellet smokers aren't great at searing the outside of the meat, so don't expect the same results as a typical grill.
Best Pellet Smokers Under $500
Pellet smokers come in a range of prices, from less than $100 to $5,000 or more.
If you want to keep a pellet smoker in your budget, this list can be your guide.
1. Buffalo Grills 1602 Wood Pellet Grill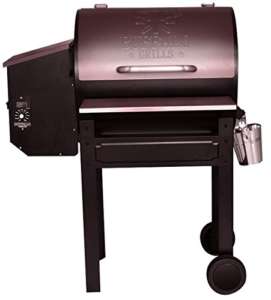 The first pellet smoker on our list is perfect for the beginner. The automatic start and shut-down system makes it easy if you're busy entertaining.
And with a 434-square inch cooking capacity, you'll have room for all your guests' favorites.
2. Green Mountain Grills Davy Crockett Pellet Grill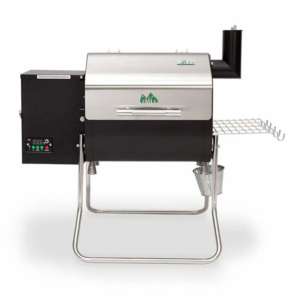 Techies and tailgaters alike have fallen in love with the Davy Crockett. It's lighter than most and has foldable legs, making it portable. But it's also full of great features.
Green Mountain Grills' Sense-Mate constantly watches the grill temperature. And for ultimate convenience, this grill is wifi-enabled. With the manufacturer's app, you can control it with your smartphone.
3. Smoke Hollow PS2415 Pellet Grill and Smoker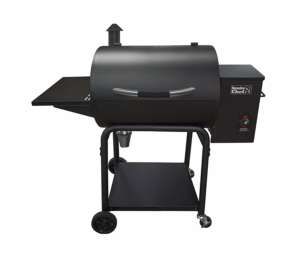 Smoke Hollow is one of the most-recognized and best smoker brands around. Of course, they have a pellet smoker that's earned a spot on this list.
This smoker focuses on giving you a seamless cooking process. The exceptionally large hopper means fewer pellet refills for you to manage. When your meat has reached its perfect temperature, the handy grease-draining system allows for a quick clean-up.
4. Traeger Grills Junior Elite Wood Pellet Grill and Smoker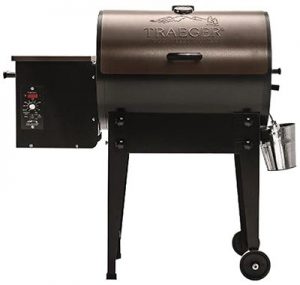 Traeger is the company that first developed the pellet heater and later, the pellet smoker. For good reason, you can expect them to be one of the masters of the trade.
Traeger has several smokers on this list, but the Junior Elite is the most affordable. The best feature of this smoker is its versatility. With so many settings and options, you can smoke, bake, roast, grill, barbecue, and braise to your heart's content.
5. Boss Grills 440 Deluxe Wood Pellet Grill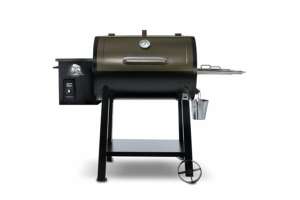 If you want to be the talk of the neighborhood, the deluxe look of this smoker will do it. It's also equipped with a high-end digital control panel and a meat probe.
For the chef who knows how to get that perfect smoke, this smoker gives you the control you want. Plus, with temperature ranging from 180-500 degrees Fahrenheit, you can choose slow-cooking or fast-cooking to your liking.
6.Grills Tailgater 20 Portable Wood Pellet Grill and Smoker

Taking a step up from the Junior Elite, Traeger Grills has the ultimate tailgating pellet smoker. The foldable legs and compact size combined with high quality for the best of both worlds.
One of Traeger's specialties is maintaining a consistent temperature, so you know exactly how long your meat will take to cook.
7. Z GRILLS ZPG-450A Wood Pellet Barbecue Grill And Smoker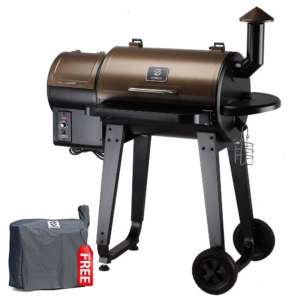 We've reached the grills near the top of the $500 budget–but trust us, they're worth it.
This master smoker has a unique look, but that's not where its advantages end. It has the versatility and predictability every chef wants, with set-and-go temperature controls.
Plus, Z Grills has packed this pellet smoker with perks. It comes with a free cover to keep it in tip-top shape. If you don't love it, you have a money-back guarantee including a three-year manufacturer warranty.
8. Pit Boss 71820FB Pellet Grill with Flame Broiler
If you're looking for maximum space for your dollar, this is it. Most of the pellet smokers on this list have around 300-450 square inches of cooking space.
This Pit Boss model, on the other hand, has a whopping 820!
That does, however, meant that this model is heavier than most, at over 141 pounds. This makes it ideal for parties and gatherings at home, with undeniable quality.
9. SMOKIN-IT Smoker Model #2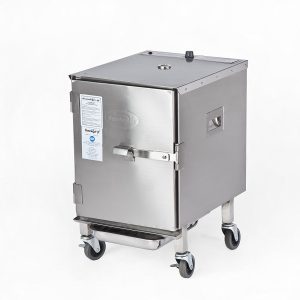 Smokin-It is known as much for their high-quality smokers as they are for their no-nonsense naming scheme.
This great brand has a reputation for well-built smokers that last for years and years. It's all about utility. The smoker has a basic and industrial look, but it gets the job done right.
10. Traeger Grills Bronson 20 Wood Pellet Grill and Smoker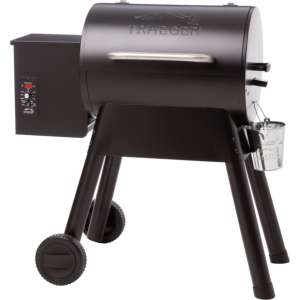 Traeger is a frequent flyer on this list, but the Bronson 20 is at a higher level than their two lower-cost models.
This smoker still has the 6-in-1 versatility and the temperature consistency Traeger focuses on. But the Bronson 20 has a larger hopper, deeper cooking area, stable sawhorse-style legs, and all-terrain wheels. These features combine to make it a convenient choice for any home chef.
If you have a landlord or HOA that restricts open flames, this smoker is helpfully compliant.
Getting to Work Without Breaking the Bank
For anyone who wants to take a step outside their typical kitchen routine, a smoker is a way to go.
From ribs to pulled pork and even your Thanksgiving turkey, it's a versatile and low-maintenance technique. And as you can see from this list, you don't have to sacrifice quality to stay within your budget.
For more meat smoking tips, recipes, and product reviews, please explore our website. Happy smoking!