(Last Updated On: October 27, 2017)
We all have various tastes and preferences, and if you are one of the individuals who love smoke-flavored meals, then this one is for you. There are many smokers out there in the market, and the hardest task you can have is choosing the best among them. The best thing is that you could get a good smoker, worth the monetary efforts you make, if you have some basic knowledge about smokers. A look at this guide will equip you with the most basic things you need to know about the best gas smoker, while also reviewing a product we think could be worth trying out:
 Smoke Hollow 38205GW 38-Inch Smoker buying considerations:
Quality of construction: This one is usually at times tied to the amount of cash you have to pay. For the smoker that range in the higher prices, expect the construction quality to be high. However, this is not much of an issue, if you are not a heavy user of the smoker.
Modification: As you buy the smoker, look at whether there is some room for you to make some modifications, such as changing the thermometer, or adding some parts to the smoker. This may come in handy at times.
Stability: You need to consider the stability of the smoker, especially if there are some factors like wind in your area, which may need you to have a stable smoker.
Mobility: As much as this point may not be applicable to everyone who needs a smoker, buying a portable smoker can at times prove worth, especially if you expect to move the smoker regularly. That thing can be heavy.
Temperature range: Different smokers may have different achievable temperatures, depending on the features. Various smokers will have a temperature range of 100 to 500 degrees, with such being the best range for effectiveness.
Door type: The single and separate doors are the most common types of doors you can have. The smoker with separate doors for the cooking cabinet and the cooking chamber is quite useful when you don't want to lose some smoke or heat as you replenish water or smoking fuel.
Smoker size: If you expect to cook for crowds, it would be better if you went for a huge smoker, but if that is not the case, get a smaller one, since it will fit you better. Besides, the smaller the smoker, the better the portability.
Warranty: Does your smoker has a warranty? Well, find out before buying one, so that you are guaranteed of servicing if something goes wrong within the warranty period. You may also need to find out whether replacement parts for your smoker are easily accessible.
Having gone through some of the factors to consider when buying a smoker, let's have a look at the Smoke Hollow 38205GW 38-Inch Propane Gas Smoker which is one of the smokers that is worth a try:
 Smoke Hollow Gas 38205GW 38-Inch  Smoker Review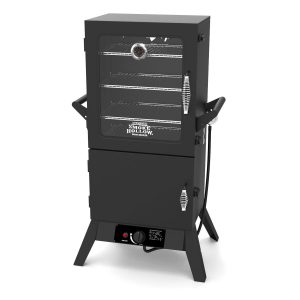 The Smoke Hollow Gas Smoker is an ideal machine for those people who seem not to get enough of smoke-flavored meals. Measuring 17 x 25 x 47 inches and bearing a weight of 70 Pounds, the smoker is a good choice for cooking for 6-8 people.
The long-lasting cast brass burner of the smoker has a push-button ignition, for an efficient and quick startup. To allow you to smoke a variety of meals without having to struggle much, four chrome-plated cooking plates that are adjustable to multiple heights have been included in the product. As if to crown that feature, a sausage hanger with meat hooks has also been added to the smoker, allowing those of you who like smoke-flavored sausages to enjoy the best taste of efficiently smoked sausages.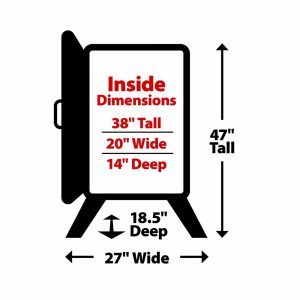 This product that has a 3.4 cu ft Capacity features a large upper cabinet that has tempered glass to allow you to view the cooking food, and detect anything wrong so that you always expect the best quality of smoked meals coming from the smoker. A large porcelain-coated water pan and wood chip tray also some of the features you expect to find in this smoker, and the best thing is that you can expect the two to last long.
Since the smoker has a 2-door design that separates the food chamber from the source of heat and the smoking chamber, you can expect to have better heat and smoking control. Besides, the door has a sure-lock latch system and a cool-touch spring wire that will allow the door to close safely and tight.
Pros
Regulation of heat is quite easy.
Assembling the smoker is easy.
It's an easy-to-use type of smoker.
Cons
The temperature gauge is not very reliable.
The smoker needs using an oven thermometer.
Some smoke leaks out of the unit.
Verdict
Looking at the features of the smoker we can conclude that the smoker is worth trying for anyone who is new to smoking as well as those of you who already know everything about smoking. The best thing is that the quality of the smoker is worth the price you have to pay.