Are

you

facing

trouble

about

finding

the

best

gas

smoker,

as

there

are

hundreds

of

products

having

their

unique

good

and

bad

sides?

Do

you

badly

need

to

know

which

the

top

gas

smoker

for

home

use

is?

Looking

for

some

authentic

gas

smoker

reviews?

Have

many

more

questions

regarding

gas

smoker?
Yep, then this is the perfect one-stop solution for you. I've written a very detailed piece of article here based on thorough research and my vast experience on smoking, particularly on gas smokers. Take time, go through this detailed article and I bet, you won't have any question on gas smokers, and you won't have any difficulty whatsoever finding the best gas smoker for you.
So, to start with, let me introduce you a bit with gas smokers.
Gas smokers are those types of smokers which are almost as easy to use as an electric smoker yet gives you an authentic BBQ flavor. The smoke flavor on gas smokers comes from wood chips, pellets, or chunks. So, if you can pick the smoker for yourself, smoking will become a bliss for you, I promise!
Another great thing about gas smokers is, most of them are pretty cheap compared to other types of smokers. You can get a good gas smoker around 200-220 bucks, but a good electric or pellet smoker costs you around 500 bucks! So this is one of the best advantages of gas smokers, a better price-performance ratio than other types.
Gas smokers are the perfect type of people who aren't willing to tend to their smoker for the whole time the meat is being cooked, as gas smokers are set-it-forget-it type of smoker. You won't have to fiddle with embers and coals all the time to make sure your smoker's chamber is maintaining the perfect temperature.
Gas smokers also heat up faster than other smokers so you don't have to wait for a fire to heat up. They produce a lot of clean heat and are easy to use even for people who are just learning how to smoke meats.
So if you are looking for a smoker on a modest budget with set-it-forget-it capability and great flavor, go for a gas smoker!
Picking

the

Best

Gas

Smoker;

The

Challenge

For

You:
So the things I mentioned about gas smokers are pretty obvious and isn't the talk of the town either. The hot topic is how you pick the smoker for yourself!
There are a lot of products to choose from in the market. Each of them has their own good and bad sides. Some might be good at space, cooking but may suck at build-quality or any other side. Some may have other problems that the manufacturer won't tell you. So it can be really confusing to pick the perfect gas smoker that matches your circumstances.
But we don't know your circumstances, do we?
So what we could do is we could suggest you the best products in the market at different price ranges and mention their good and bad sides based on our experiences with that product. That's exactly what we did. We picked the best smokers and researched one them, spent time with them and then reviewed them.
In the article, We've included-
Some

useful

sides

of

gas smokers

Comparison table 

between

top

5

gas

smokers.

Reviews

of

top

gas

smokers

in

2017

A

detailed

buying

guide

that

will

help

you

pick

your

perfect

gas

smoker.

Some

frequently

ask

questions

about

gas

smokers

also.
So shall we get going? You decide whether you need this information or not!
Comparison

Table

of

Top

5

Gas

Smokers:
In this comparison table below, I've compared the top 5 gas smoker depending on availability of particular features. Check it out-
Reviews

of

Top

5

Gas/Propane

Smokers

in

2023:
So I've provided authentic reviews of top 5 gas smokers below based on our research and experience with that product. I've revealed those things about a particular product that the manufacturer won't tell you. Every good and bad side of these smokers I've mentioned in these reviews. Read 'em carefully so you don't miss anything!
1
1. Smoke

Hollow

44241G2

44-Inch

Vertical

LP

Gas

Smoker: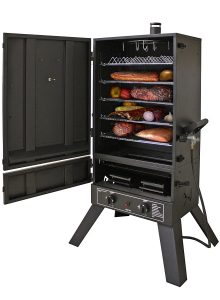 Overview:
The Smoke Hollow 44241G2 is a great gas smoker which comes with a big cooking space and brilliant heating unit. This unit has many better features over other gas smokers in its price range. It features-
44-inch

Dual-door

cabinet

system

for

easy

access

to

the

water

and

wood

pans

Dual

independently

controlled

inline

burners,

providing

a

power

of

10,000

BTU

combined.

Has

an

extra-large

cooking

area

with

a

dimension

of

60x33x24.5

inches.

Porcelain-coated

wood

chip

pans

3

standard

cooking

grates

with

2

jerky

trays

and

1

rib

rack.

Adjustable

door

clamps

and

many

more…
I found this unit to be a peak for the price. And I thought even after being big, it could be an excellent choice for novice smokers who are just starting smoking as it has a great heating unit(which I've talked about later) so beginners won't have to suffer on this and on overcooked or under-cooked food.
Space:
As I said, The smoke Hollow 44241G2 is pretty big in size (24.50" L x 60″ H x 33″ W) and thus offer a large cooking area. And to mention, it's the largest smoker offered by smoke hollow ever. They made sure that you don't have any problem to cook food for an army even!
Another great thing is it doesn't fluctuate on temperature even when fully loaded (again thanks to the brilliant heating unit. And this model comes with 3 standard cooking grates, 2 jerky trays, and 1 rib rack to make cooking space more organized.
Build-Quality:
The smoke hollow gas smoker is pretty well-built with solid steel and has a good finishing. The wood chip pans on this has a porcelain coating on them. This unit is overall durable.
Though there are some complaints of minor smoke leaking from some of the areas. You can easily fix these with silicone, not a hard job to do!
Cooking:
Talking about cooking first comes heating. This unit has a brilliant heating unit consisted of two independent gas burner. Because of this two independent burners, it can function at a wide range of temperatures and maintains its temperature better than the other models.
The 2 burners can provide 10,000 BTU power combined. With both burners on "low" you can get about 250 degrees. You can use one burner at medium to get 220-230 degrees, which will be enough for many foods and thus can save fuel.
And the temperature gauge in it is good also, shows a pretty accurate temperature. Though it shows 10 degrees more than the actual temperature is. But you still can calculate the actual temperature.
Cleaning:
Obviously, being a gas smoker it doesn't leave any ash. This is one of the biggest advantages of gas smokers, and they are easier to clean. So is this model. You don't need to put a lot of effort to clean it thoroughly
Other:
There's not a single pan but a pair of wood chip pans in this for flavoring. Fully filled smoke box lasts about two hours on an average. If you use one burner at a time you can double this duration.
And the dual door design on it helps the users to add water/wood to it without losing any smoke, something that can be a problem with most other smokers.
PROS:
Huge

cooking

area

Easy

&

Simple

to

operate.

Heating

is

brilliant,

2

independent

burner

help

saving

fuel

Assembly

is

pretty

straight

forward.

Maintains

the

moisture

in

food

well

and

cooks

evenly.
CONS:
There

could

be

a

little

smoke

loss

sometimes,

which

can

be

fixed

with

silicone.

Large

size

makes

portability

a

problem.
2
2. Camp

Chef

Smoker

18″

Smoke

Vault: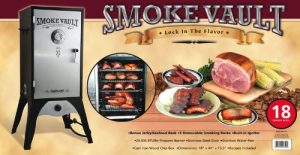 Overview:
The Camp Chef 18″ Smoke Vault is a lightweight and medium-sized smoker that has all the capability to fulfill your regular smoking needs.
This sweet, simple smoker lets you cook your meat low and slow with a water pan and wood chip tray to infuse it with a delicious flavor you cherish to have. This unit has a lot of features like-
Two

adjustable

smoking

racks,

one

jerky

smoking

rack.

Water

pan

and

heavy-gauge

steel wood chip tray.

Protected

burners

drum

that

provides

maximum

heat

control.

Removable

porcelain

base

tray

which

makes

clean

up

easy.

Heating

unit

that

can

go

as

high

as

400

degrees.

Convenient

matchless

snap-ignition.
This smoker is perfect for you if you are even not that experienced in cooking, and looking for a quality, convenient and easy-to-use smoker in a modest budget to cook food for a medium-sized audience.
Space:
This is a medium-sized smoker with dimensions of 18″ W x 16″ D x 30″ H, so it doesn't have space to cook for an army at a time. This smoker will be good for you if you need to cook for a little or medium-sized audience.
It has two adjustable smoking racks with a dimension of 15″ W x 14″ D to decorate the cooking space. You can use this smoker to smoke variety of foods, from ribs to a whole turkey or even baked pies.
Build-Quality:
The camp Chef 18″ looks to be solid build enough to last many long years. It's made of durable stainless steel and has good finishing. Thus it looks premium and doesn't lose any smoke. I'll suggest using a cover for this to protect it from rough weather.
Cooking:
This model from Camp Chef has a brilliant heating unit which delivers 18,000 BTU/hr and can raise the temperature as high as 400 degrees F from 160. It has fully adjustable heat-control dials, so lets you cook meat low and slow or high and fast! There's an easy to read door thermometer in it than can measure from 50 to 550 degrees.
The long range of temperature lets you cook various types of food at the optimal temperature that particular food needs. To control the temperature more conveniently, it has three adjustable damper valves; one on each side and one on top.
Cooking tips, ideas, and recipes included.
Cleaning:
Gas smokers are easy, but this smoker is SUPER EASY to clean! Just let all the parts of the grill cool down and then you can clean most of its parts using a damp cloth. Or you can just take the rack, and water pan out and throw it in the dishwasher.
The porcelain base of the smoker can be removed to make cleaning the smoker easier.
Other:
Assembling the smoker is very easy. Following the instructions properly you can do it in 45 minutes max!
This smoker weighs 65 lbs only! Thus it's very portable for moving around or bringing somewhere.
After-sales service of the manufacturer is very good. For any kind of problem with the smoker like part malfunction or something, you'll get help within three days!
The assembly is very easy, just make sure you follow the included instruction manual. I had my smoker completely assembled in about 45 minutes.
PROS:
Brilliant

heating

and

convenient

heat

control

mechanism.

Control

heat

and

smoke

to

the

desired

level

for

perfect

cooking

Convert

to

natural

gas

without

any

complicated

procedures.

Durable

construction

and

lightweight

structure.

Straight-forward

and

easy

cleaning

and

maintenance.
CONS:
The

thermostat

readings

could

vary

by

10-20

degrees
Number3
3. Char-Broil

The

Big

Easy

TRU-Infrared

Smoker

Roaster

&

Grill: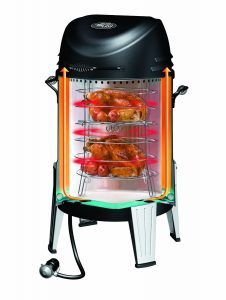 Overview:
The Char-Broil Big Easy Gas TRU Infrared Smoker is the elder brother of the successful and award winning Big Easy by Char-Broil. This unit has a clever, innovative design. This time Infrared roasting, grilling, and smoking all will be in one grill.
The eye catchy feature of this smoker is the infrared cooking system. This technology makes sure the food cooks evenly, and it stays juicy and moist till the end. There is also no flare up because of this cooking system.
The unit is pretty solid, simple to use, and the results are great. It features-
TRU-Infrared

technology

that

cooks

food

evenly

and

keeps

the

food

juicy

and

moist

with

no

flare-ups

The

Big

Easy

Smoker

&

Grill

lets

you

smoke,

roast

and

grill

–

all

in

one.

Has

180

square

inches

of

cooking

area

for

grilling

and

holds

up

to

25

lbs

for

roasting.

Temperature

control

from

9,000

BTU

to

18,000

BTU's

Use

the

smoker

box

for

added

flavor.
Space:
Though it's named "Big Easy", this is not a big smoker at all. It has a cooking area of 180 sq. inches and can fit up to a 25 lb. turkey in the cooking basket. It has double stack cooking capability for smaller foods.
This unit will be good for people who often need to cook for a smaller audience.
Build-Quality:
This smoker is made of stainless steel and is pretty solid. It is expected to last long with minimal maintenance. The overall design features cool-touch handles and porcelain coated hood for a solid and durable construction. The finishing of this is decent, but could be better.
Cooking:
What's the most important part of a smoker? Cooking, obviously. This smoker does that job pretty great.
This smoker has a powerful and convenient Infrared cooking system. This system makes sure the food gets cooked evenly from all sides, and the juice stays inside it to keep it moist and tender.
This unit has a specially designed and fully enclosed propane burner. The insulated walls distribute infrared heat evenly, and that help to seal juices inside of the meat you are cooking. And, there's plenty of air flow also inside of the unit, not letting you worry about your food drying out.
There is also no flare up because of the Infrared cooking system. The powerful and highly efficient infrared cooking system operates from 9000 BTUs to 18000 BTUs depending on your setting.
Cleaning:
Gas smokers literally left nothing to clean, except few drippings on the metal. So take a piece of cloth, some soap, wash it gently and let it dry. And there's barely any hard-to-reach point in this smoker. So it's no hard job cleaning it.
Other:
From the grease collection tray, you can take drippings and make a wonderful gravy. Easy & Delicious.
The Big Easy Infrared Smoker measures 18 x 24 x 36 inches, so you maneuverable, and you shouldn't have a problem transporting it.
There's an internal smoker box that uses wood chips or pellets without the need of air dampers or a messy water pan.
PROS:
Versatile

Smoker,

can

be

used

for

grilling,

roasting

or

smoking

Decent

space

for

small

audience,

can

hold

turkeys

as

big

as

25

pounds

Temperature

control

from

9000

to

18000

BTUs.

Specially

designed

propane

container

for

safety.
CONS:
Build

Quality

could

be

better.

Could

be

a

little

small

for

some

people.
---
Number4
4.Char-Broil

Vertical

Gas

Smoker: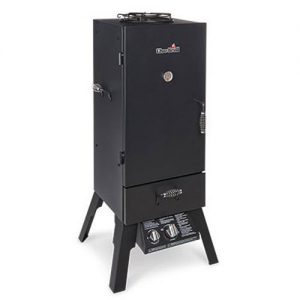 Overview:
The Char-Broil vertical gas smoker is another good inexpensive smoker you can buy to cook delicious meals without breaking the bank. Being an inexpensive smoker, it performs relatively well with some supervisions.
This smoker offers you large smoking chamber of 7,566 cubic inches, 3 chrome-plated cooking grates along with multiple rack locations, and a double drawer design to minimize heat loss.
It also features match-free ignition, warming rack on top of smoker chamber, porcelain wood chip and water pan and so on. To mention, the Char Broil Vertical Propane Smoker is one of the most commonly used gas smokers available in the market.
Space:
The Char-Broil vertical gas smoker is quite spacious. The total cooking space of the smoker grill is over 7 cubic feet, with a 595 square inch of cooking surface. This is spacious enough for you to cook for a medium-sized audience.
And it this price range, there's barely a smoker that offers this much cooking space that doesn't fluctuate regarding performance even when fully loaded.
Build-Quality:
The material this smoker is made from is good. It's made from stainless still and is expected to last for years.
The door on this smoker is not gasket-ed and might leak some smoke. But considering the amount of heat it can produce, a little-lost smoke will not hurt anything.
The other fittings seem good, and the door shuts well and stays closed.
I'll suggest you buy a cover as it does not come with one. It could rust with rain otherwise.
Cooking:
This smoker can cook some delicious tasted food with some help. Its heating unit is great without any doubt. This vertical propane smoker uses a simple propane burner to heat wood chips and water for smoking. But you'll have to supervise it well to make sure it's maintaining the temperature well.
Sometimes it could get really hot inside. So, you'll need to put a fully loaded water pan inside. To allow a better temperature control, there are dampers in this grill that you can keep open or closed at your convenience.
It has a double drawer design which allows for quick, easy access to water and wood pan without any heat loss in the actual cooking chamber.
There's a warming rack on top of smoker chamber and a built-in temperature gauge. But it seems to miss-measure the temperature by 15-20 degrees. So you can do the math or could buy an extra one for more convenience.
Other:
The smoker is not that heavy, neither that light. So, it's somewhat portable. It offers a match-free ignition employing a push-button piezoelectric igniter.
There's a setup guide provided with this. But the setup could take a while (you won't need to do it everyday, right?), though be ensured all parts will be there and will go together pretty easily.
PROS:
A

very

affordable

inexpensive

smoker.

Offers

large

cooking

space

for

all

your

cooking

needs.

Heats

up

quickly,

produces

enough

heat

needed

for

most

kind

of

food.

Easy

lighting

with

the push-button

piezoelectric

igniter.

Leaves

a small

footprint.
CONS:
The

included

water

pan

is

not

of

great

use.

Thermometer

is

not

great,

and

setting

up

is

a

bit

time

consuming.
Number5
5. Weber

Genesis

6531001

E-330

637-Square-Inch

38,000-BTU

Liquid-Propane

Gas

Grill:Best Propane Smoker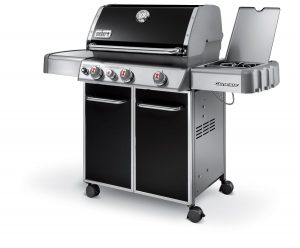 Overview:
If you just need a great smoker having no eye on budget, The Weber Genesis 6531001 E-330 is undoubtedly the best option for you. This is one of the top rated gas smokers under 1000$ that you can buy. Being loaded with features and almost no flaws, this smoker makes smoking a bliss.
Features of this top gas smoker are-
Big

637-square-inches

of

cooking/warming

space

for

your

needs

with

porcelain-enameled

cast-iron

cooking

grates

Not

1

or

2,

but

3

stainless-steel

burners

Very

well

and

sturdy

built.

Has

Flavorizer

Bars,

does

the

cooking

job

very

well.

A

fuel

gauge

letting

you

know

exactly

where

you

stand

on

fuel

at

all

times.

Individual

electronic

ignition

system;

Front-mounted

control

panel.

Built-in

thermometer;

Enclosed

cart;

6

tool hooks.
Build-Quality:
Every individual part of this smoker is very well built with perfectly-suited materials.
Talking of the main body, it's made of cast aluminum. It's durable, efficient, sturdy! The finishing is great, gives this smoker a nice and premium look. Being very well built, this smoker requires minimal care and maintenance.
Coming to grates, they're made off three exceptional kind of materials; porcelain-enameled steel, porcelain-enameled cast iron, and stainless steel. Each type retains heat evenly and sears the food beautifully, fulfilling the job of a grate successfully. And all of them are easy to clean cause they aren't sticky to drippings.
The burners are made of high-grade stainless steel with no welds, which makes them stronger. They're very resistant to rust and burn-through.
The Flavorizer bars, being made of either porcelain enamel or stainless steel, are durable, long lasting, and easy to care for.
Space:
The Weber Genesis 6531001 E-330 is generous in space as well. It has 637-square-inches of cooking/warming space. It'll be good enough for to cook for a gathering of friends or a family reunion may be. Just call all your friends, this smoker will handle the job of feeding them.
The cooking space is well decorated with porcelain-enameled cast-iron cooking grate. These grates retain heat evenly and sear food wonderfully.
Cooking:
This smoker has everything perfectly set up to smoke your food to perfection and deliver the best-tested food possible.
It has 3 stainless-steel burners that can produce enough heat for any kind of food you dream of smoking. These burners maintain the perfect heat level for direct or indirect cooking. And you get 3 individual front-mounted control knobs to control each of the burners separately.
There's an innovative Flavorizer bar system in this unit for ultimate flavoring. These porcelain-enameled Flavorizer Bars are angled just right, and catch drippings that smoke and sizzle ultimately, which adds flavor to your food. No juice of the food will get wasted from now!
And as I mentioned above about the grates, they make sure the heat retains perfectly to prevent any hot spot on the food.
With the combination of all these features, it ultimately delivers the perfect tasted food just what you want!
Cleaning:
The Weber Genesis 6531001 E-330 has a brilliant grease management system to make sure it doesn't get dirty every time you cook.
Juices' dripping off the meat funnels down to the Flavorizer bars and gets vaporized to add flavor. Any drippings not vaporized by the Flavorizer bars go down into the grease management system. They follow the slope of their unique angle and get funneled away from the burner tubes into the catch pan.
The catch pan stays at a safe distance from the burners to prevent the grease from catching fire. You just need to simply remove the disposable drip pan, toss it in the trash, and replace it with an empty pan, easy as that.
And if any case anything gets left in the body, just take a piece of wet cloth and clean them, it won't be a hassle.
The grill burner tubes also can be cleaned easily by gently brushing with a stainless-steel grill brush.
PROS:
Very

premium

built.

Generously

spacious.

Cooks

brilliantly

produces

juicy

and

tasty

dishes.

Cleaning

isn't

hustling

at

all.
CONS:
No

flaws

in

it I've

found.
---
The

Ultimate

Buying

Guide:
I've reviewed the gas smokers in the different budget range you can buy. But it is you who'll need to take the decision according to your circumstances. So let me help you to decide for yourself which gas smoker will be perfect for you according to your conditions.
In this guide, I'm gonna tell you what things you should consider trying to find the best gas smoker for you. I'll describe what makes a gas smoker good or bad.
Let's get started.
Firstly,

determine

the

use

of

the gas

smoker:
I'm saying this because manufacturer makes different gas smokers for different purposes. They make large costly smokers, as well as cheap small smokers.
So, if you don't smoke often and when you do, you cook only for 4-5 members, buying a 1000 bucks large smoker would be foolish.
Or when you need to cook for a medium or large-sized audience, buying a small smoker to save money will be foolish again.
So, first determine why you are buying the smoker for.
Small

 gas 

smoker (for home or family use):
If you need to cook a little amount of foods for a small family, go for a gas smoker which is not expensive because of not being too large, and is useful with good features like heating, ease of cleaning, build quality, temperature control, etc.
Big

smoker:
If you need to cook a large amount of food every time you smoke, go for something big and useful like Weber Genesis 6531001 E-330 or Smoke Hollow 44241G2 44-Inch Vertical LP Gas Smoker.
Or if you don't have that budget but still need a large smoker, Smoke Hollow 44241G2 44-Inch Vertical LP Gas Smoker is ideal for you. It offers a large cooking space still not expensive. It's undoubtedly the best gas smoker under 400$ you can buy.
Medium

smoker:
If you have to do both, means if you generally need to cook food for a little audience, but sometimes have somewhat bigger gathering, something like Char-Broil Vertical Gas Smoker would be ideal.
This smoker has a cooking area of 7,566 cubic inches with 595 sq. inches of cooking space. And this smoker does pretty well in other sections and won't break the bank too. It's very cheap considering its features. It could be a great option for you under 200$.
Secondly,

fix

your

budget:
There are so many products available in the market, with different price tag and features. Among this gathering of products, choosing the perfect gas smoker for you can be tricky without you having a budget in your mind.
So, I'll suggest that you keep a budget in your mind, and have a bit of liquidity in it.
Just like, "I need a gas smoker for this kind of usage and I'm can spend around (***) bucks for it. And in necessary, I can add (**) bucks." Having a clear thought about budget like this would help you decide.
Thirdly,

rate

a

gas

smoker

well

having

these

features:
Good heating unit:
A gas smoker needs to have a good and efficient heating unit. At the end of the day, all you want is some tasty dishes, and it depends a lot on getting the perfect temperature. You aren't gonna like a under or over cooked food.
Temperature range is also a thing to look for. In some of the smoker like the Weber Genesis, temperatures ranging from 100 to 500 degrees can be achieved. This makes them exceptionally versatile. You can cold smoke salmon, braise lamb shanks, dry jerky, or roast a prime rib.
So make sure the smoker you are choosing has a good heating unit that can rise the temperature from low to high and also has good control-ability.
Good space with removable racks:
You'll need a good amount of space in a gas smoker to cook the amount of food you need. By "good" I don't mean huge or something. Just make sure you don't run short of space, if you need to cook for a slightly bigger audience than you usually cook for.
So make sure your smoke has a decent amount of cooking space. And, having removable racks in the smoking area is useful, as removing the rack, you can cook a large-sized food in it, like a full turkey or something like that.
Build quality and durability:
Who likes a cheaply built smoker? I'm sure no one does, for any kind of machine. So, make sure your gas smoker is also made of good material, ensuring durability.
To ensure stability, especially if wind is a factor, look for a unit with sturdy and splayed legs (if portability is important, then preferably with wheels )
You might not always get the best smoker in your budget. So decide what shortcomings you can live with or improve with modifications.
Other

things to buy gas smoker:
Separate doors for the lower part of the cooking cabinet and the cooking chamber are always useful. It gives you access to easily check on the flame or replenish smoking fuel or water without losing smoke or heat. Also make sure they seal tightly thus good doesn't become bad.
A front-loading design is more convenient than a unit top-loading design.
Don't forget to ask these questions-
What kind of

warranty

does

the

unit

have?

Are

replacement

parts

available?

How

much

assembly

is

required?

Though

you

don't

need

to

assemble

everyday.
Verdict:
So, what have you learned? I hope now you have an idea on the best gas smoker out there in the market and now you can pick your own gas smoker by yourself. Yeah I know it requires a bit of work, and even cooking on a gas smoker does. But trust me, you'll forget every hustle when you'll have the first bite of that juicy, delicious meat you just smoked yourself on your gas smoker.
And, if you've read till here, I'm sure you made a journey of "Noob to Pro" in gas smokers. If you had any confusion on gas smoker review, I hope it's not one anymore. But if you still do have one, don't hesitate to ask them in comments. I'll get back to you as soon as possible.
PROS
They are simple, easy to use.
They feature 'set it, forget it' capability.
Gas smokers are pretty cheap to maintain.
CONS
You'll have to buy separate propane tanks as they don't come with one.
Propane is flammable, an accident may occur upon irresponsible usage.
Dishes taste good, but not as great as wood smokers.