Coming from a trusted name in smoker manufacturing era, Masterbuilt 20070910 30-Inch Electric Digital Smoker set its own standard. The smoker has won many users trust because of its durability, exiting and innovative features and ease of access. And it has a low price tag too.
The manufacturer, masterbuilt has been a renowned name in smoker technology and is known for its innovation and quality. And this product is one of their best.
This "Remote Control" enabled electric smoker is easy to operate. This smoker is built for from beginner to novices. It has good 730 sq. inches of cooking space, decorated with 4 chrome-coated removable and adjustable racks. It features 800 watt heating element, and it's insulated, making sure no steam gets wasted.
Some Feature Of This Smoker.
Good

Space

and

well

decorated

inside

with

4

adjustable

racks:
The smoker is spacious inside. It has 730 sq. inches of cooking space, decorated with four interior adjustable smoking racks. Space is good enough to cook enough food for a little family reunion or gathering of friends. It's not huge, but enough! Some users mentioned they could cook 30+ lbs of meats at a time without any problem.
The chrome coated racks are removable. So if you need to cook something like a full turkey, you can simply remove the top two racks and smoke it.
However, as I mentioned, The smoker is good for handling family needs, not large gatherings.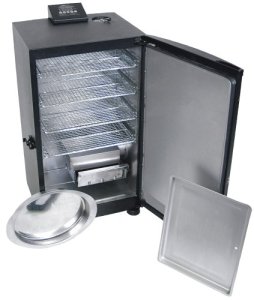 A good

Heating

unit,

Well

insulated:
This smoker comes with an 800-watt heating element, and it's good. It can raise the heat up to 275 degrees F, enough for red meats, which will often need a temperature between 220 and 250, and it's enough for fish too. But it's not so good for poultry, where you want it up to 350 to get the fat on the skin to render (to avoid chewy skin).
Another good thing about this smoker is. It's very well insulated, and therefore, no chances of heat or smoke loss.
Unlike a traditional side smoker, this master built smoker is nicely chunky and doesn't care much what the outside temperature is at.
Industry

first

remote

control

electric

smoker:
The masterbuilt 20070910 30-Inch Electric Digital Smoker comes with RF Remote control technology. This industry-first remote controlled smoker with temperature and time monitoring capability makes slow smoking easier than ever.
It makes your job easier to control the smoker. You can sit 100 feet away and still can use the remote control to turn the smoker on and off or set the temperature. It has many other functions like it monitors temperature, time, internal light, on/off and meat temperature.
The remote comes with its own belt clip. Thus you can make fine adjustments without leaving your seat.
The smoker also comes with a traditional push-button switch on-off function though!
Thermostat

temperature

control

and

built-in

meat

temperature

probe:
The masterbuilt 20070910 30-Inch Electric Digital Smoker comes with thermostat temperature control for even cooking from 100 to 275 degrees F, and has a built-in meat temperature probe also.
While cooking on a smoker, the most attention you need to pay on keeping the smoker at the right temperature. With this smoker, being an electric smoker with a built in thermometer, you can set your preferred temperature, and you're good to go.
Well

built,

durable,

and

somewhat

easily

transportable:
This smoker from masterbuilt has a powder-coated steel outer body, which is nearly indestructible and scratch resistant. The smoker is overall well built, from the racks being chrome-coated to the steel outer body. Regarding this matter, it promises durability.
Again, the smoker is small and light enough to transport. You can easily move it to your preferable place. Though it doesn't come with transporting wheel underneath it, it's not a big hassle to move it, because of it's being light-weight and small.
Digital

Control

Panel: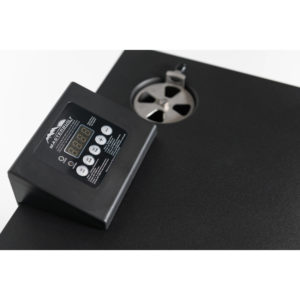 It features a digital control panel loaded with functions. The control panel gives you total control over the full preparation process.
Start it with a push button, then set your preferred temperature, and any of your set value remains consistent. So, your food cooks exactly the way you want. No tension of over-cooked or under-cooked food from now.
Simplified

and

easy,

yet

effective:
This electric smoker from masterbuilt in one of the easiest smokers to work with. It is loaded with options, yet very simplified, thus gives a good result.
It also offers a 24-hour timer with an automatic shutoff to keep your food from drying out.
Sideloading

Wood

Tray,

Water

pan

,

and

air

damper:
This smoker has some unique good features like Convenient side loading wood chips. Water pan and air damper.
The convenient side loading wood tray of masterbuilt 20070910 lets you add wood chips without opening the smoker, hence it saves heat and smoke. You can simply fill the wood chip loader with your favorite wood chips, slide it into the side of the smoker, and enjoy watching it smoke.
The removable water pan feature of this smoker lets you add vinegar, juice or your favorite beverage to the water pan to infuse moisture, which adds another layer of flavor to your food.
To get a milder flavor, you can use the adjustable air damper feature of this smoker to decrease the smoke level. If you're a robust flavor lover, you can instead leave the air damper closed, which will intensify the smoke levels inside.
Additionally, the bottom of the smoker is lined with a removable drip tray which catches the drippings, to add just the right touch to any gravy or sauce.
Plus, the drip tray makes cleanup easier than ever.
Pros:
Cost-effective

smoker,

Durable

with

solid

body,

lasts

long.

Well-insulated

smoker,

chances

of

heat

and

smoke

loss

are

minimal.

Provides

fair

enough

spacious

area

of

cooking,

which

is

decorated

with

4

chrome-coated

racks.

Good

800

watt

heating

unit,

able

to

get

the

temperature

as

high

as

275

degrees

F,

ideal

for

red

meat.

RF

remote

control

feature allows

a

user

to

monitor

and

control

it,

seating

100

feet

away.

Features

a

top

air

damper,

thus

smoke

level

can

be

adjusted

without

any

hurdle.

Comes

with

thermostat

temperature

control

and

built-in

meat

temperature

probe.

Has

a

side

loading

wood

chip

tray,

allows

a user

to

add

wood

chips

without

opening

the

smoker.

Removable

water

pan

lets

you

adding

any

flavor

of

you

would

love

infusing

to

your

food.

Quite

easy

to

clean

and

maintain,

thanks

to

the

removable

drip

pan

placed

at

the

back.
Cons:
Well

spacious

for

a

family,

but

not

enough

for

a

large

crowd.

Temperature

goes

up

to

275,

excellent

for

read

meat,

but

not

so

for

a

poultry.

(

though

you

can

cook

a

poultry,

but

you

won't

get

the

best

performance

and

taste)
Price & Where to buy
The masterbuilt 20070310 electric digital smoker is cost-effective and fairly affordable. It provides full value of the money with its performance. And fulfills the reason it's bought for.
See Video Review: 
Verdict:
If you're looking for a good, durable and dependable 'family-size' electric smoker with all the features that make smoking a pleasure and fun, the masterbuilt 20070910 electric digital smoker is a go.
This product satisfies the basic need like excellent heating with good space, and also comes with some unique luxury features like R remote control, thermostat temperature control, built-in meat probe, side loading wood tray, removable water pans and tops air damper.
So get it for your family and start smoking like never!
Masterbuilt 20070910 30-Inch Electric Smoker Review