Many people have taken to the electric smokers for the ease and convenience they offer. A general view is that electric smokers cannot compete with the taste provided by charcoal grills or gas.
But that is a thing of the past!
With advanced models like Masterbuilt 20070213 30-Inch Black Electric Digital Smoker, you can bring out the original smokehouse flavor in anything you cook.
The Masterbuilt electric smoker uses wood chips to provide authentic flavor and makes the most delicious barbeques and sausages you ever tasted.
It is a no-nonsense digital electric smoker where you put in the meat, fill in the wood chips, turn the thing on with set temperature- and you're done!
To know what makes the Masterbuilt Electric Digital Smoker stand out from the rest, keep reading the review!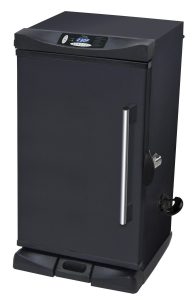 The product comes with some amazing features which make it a worthy purchase. While you could get most of the electric digital smokers in other competitors too, it is the accuracy and performance that stands out here. Some of them include-
Spacious Cooking Chamber-Are you having a whole group of guests visiting for dinnerware not, as the 730 square inches of the smoking chamber will cook food enough to feed a whole army.So bring out what you got! Pounds of pork or whole turkeys and chickens- everything easily fits inside on the 4 chrome plated racks with space for more.
Easy and Efficient Controls-A thermostat digitally controls the temperature on the electric smoker. There is a big LED display at the top of the unit showing all the important information.It also got the controls and you can easily set the temperature required. The 800 watts heating element can cook at temperatures of 100 to 275 degrees Fahrenheit.
Convenient Wood Chip Chamber-The wood chip feeding system is also quite neat in the Masterbuilt electric smoker.There is a separate arm at the side of the unit to load the wood chips. You don't even need to open the door! Just put the chips and turn it in.
Adequate Insulation-The smoker is made to allow the heat to stay inside without interference of the outside conditions. It comes with full foam insulation for the best results and cooking.
Convenient Drip Pan-Masterbuilt has used a new system of drip deflector in this model.The drip pan is accessible from the front and placed at the lower part of the smoker for greater convenience.
Safety Water Tray-The liquid tray of the smoker is small and catches to the framework inside.It is a safety feature which prevents hot liquid or oil collected in the tray to spill over accidentally. There is no fear of getting burnt with steaming fat from your pork!
Pros
Hassle free digital electric smoker with easy controls
Large LED lit display for super convenience
Spacious smoking chamber to hold large food supplies
Solid body built with durable material which lasts a long time
Just load, set and forget it approach to smoke your food
High quality insulation maintains a constant inner temperature for superior cooking
Easy to load wood chip feeding system
Racks and drip tray can be cleaned without any problem with warm water and cloth
Quickly preheats to the desired temperature and does a fabulous smoking job
Easily accessible front placed drip pan
Stainless steel handle for better grip
Locking door with inner liner for proper smoke seal
Produces no ash like charcoal smokers
Constant stable smoke is generated even with less wood chips
The unit maintains the set temperature constantly without any glitches
Black powder coated steel gives it killer looks and appeal
Cons
The handle has cheap plastic parts connecting it with the door
Does not come with wheels for moving around
It is not easy to access the heating element replacement
Verdict
Masterbuilt 20070213 30-Inch Black Electric Digital Smoker, Front Controller is a gem of a gadget.
It performs like a champ smoking everything you throw at it to perfection. You don't need to fill in gas or charcoal and keep checking from time to time.
Just plug in the digital smoker, set the controls and you are free to tend to other tasks while the cooking goes on. Masterbuilt is known for its high-quality smokers and this is no exception. The 800 watt heating element combined with large smoking space slowly cooks your meat with rich flavor and taste.
You get complete value for money for your purchase with so many useful features and functions. Be it outdoors or indoors, Masterbuilt will deliver its promise of authentic smoking anywhere and everywhere.
Masterbuilt 20070213 30-Inch Black Smoker Accessories
We have researched a few accessories to go along with your Masterbuilt electric smoker. They are meant to keep your unit safe and help you in operating it.
Masterbuilt Digital Electric Smoker Stand, 30-Inch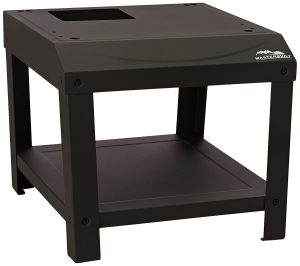 Made especially for Masterbuilt electric smokers, the stands help you cook more conveniently.
The unit rises 16 inches in height (the height of the table) making it easy to access the controls and the door.
The food on the racks also becomes easy to manage at an increased height.
The stand is made of heavy-duty steel and highly durable. It also comes with a extra bottom storage shelf to keep your smoking supplies.
Masterbuilt 30-Inch Electric Smoker Cover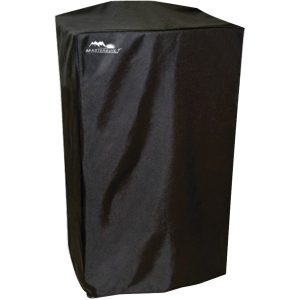 Your smoker will be safe from dust, dirt and debris by using this high-quality cover made from polyurethane. The cover can also be used outdoors to keep the harmful weather elements at bay.
It fits all 30 inches Masterbuilt smokers.
Western 28066 Cherry Smoking Chips for BBQ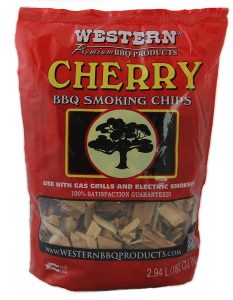 Just to add the authentic wood smoke flavor to your meat!
The Cherrywood renders a subdued fruity smoke flavor that enhances the taste of your dish. You can use it with fish, vegetables