Are you in a mess about finding the best pellet smoker?
Are you in mess in determining which actually is the perfect pellet smoker in 2018, as there are hundreds of products having their good and bad sides?
Need to know which is the top pellet smoker for home use?
Looking for some pellet smoker reviews?
Do you have many more questions regarding smoker like these of above?
No worries. Once I was in your position, comes thus I know what question come to your mind. You'll find the answer of 'em all below in the comprehensive buying guide I'm providing below.
In my early time, I was cruising the internet to find some reviews and a buying guideline. But I really never have found a "comprehensive" one.
So here I am, providing reviews of the products I've come in touch with in my 7+ years of smoking experience. And, with a comprehensive buying guide, trying to help people find the best pellet smoker that meets their condition.
Call them pellet grills or pellet smokers, but the fact is that these devices have created an enormous impact in the barbecue world. The best thing is that these machines can help you cook your food in almost any method, making it an exceptional device for the professional as well as personal level users. What could be better than a machine that you can use to grill, smoke, roast, bake, sear, BBQ, and braise interchangeably? Well, a pellet grill allows you to achieve all those tasks, so that it seems like you have a smoker, wood/charcoal grill, and a gas grill all in one. The funny thing is that pellet grills have been around for a long time now, but only recently have they been trending on BBQ. You may wonder what makes people like them a lot, but upon looking at the advantages, you will wonder no more.
In this guide, you're gonna get-
Quick comparison between smoker types, and get to know why pellet smokers are one of the best.
Quick introduction to a pellet smoker, if you are not familiar with it.
A very useful comparison table, comparing metrics of the top rated pellet smokers in the market, to help you decide.
Reviews of the top pellet smokers available in the market in 2018.
A comprehensive buying guideline, explaining what should you keep an eye on while choosing a pellet smoker.
Some frequently asked questions and some words from me, as a somewhat expert.
Pellet vs Electric vs Charcoal and so, which one is the best:
Pellet, electric, charcoal, gas these are the main four types of smoker available in the market now. Each of them was created for certain reason. Each of them has their unique good sides, and bad as well. So it might be confusing determining what type of smoker will suit your conditions best, and will give you ultimate tasty dishes!
Electric smoker:
Well, firstly talking about electric smokers, they're good. They're well control-able, not messy and clean. But the biggest problem of them is you really don't get that organic yummy smoky tested dishes from it, no matter even if you use wood chips! It kinda tests artificial. That can really be a deal breaker, for me it was.
Charcoal smoker:
Charcoal pretty much overcomes that taste issue of electric smoker, not by 100 percent though! But the biggest problems with charcoal smokers? They can be really messy! It's hard and time-consuming to clean a charcoal smoker clean and these type are smokers are also less durable than others!
Gas Smoker:
Gas smokers are better from the two of above in these issues. But, they can be really expensive to maintain and the heat sometimes get uneven and un-control-able! So, not perfect, yet!
Pellet smoker, probably the best type of smoker:
In a good pellet smoker, you'll find none of the issues of above. And, you'll rarely find any other issues with a pellet smoker! Of all the different smoker types available, pellet smokers are the easiest to operate as they're thermostatically controlled. Just set it and forget it!
The best thing about pellet smoker is it keeps thing natural, thus you always get that pure smoky flavor, without using wood chips! And, it is easily controllable and cheap to maintain. Thus I prefer pellet smokers most! And you'll rarely find any unhappy pellet smoker owner.
Comparison Table of Top 5 Best Pellet grill/smoker:
Here, in this comparison table, I'll compare the features and specs of the best pellet smokers available in the market now. This will make your decision making easier. So, have a look at the comparison of top pellet smokers –
| Photo | Model | Cooking surface | Temperature | Price |
| --- | --- | --- | --- | --- |
| | REC TEC Wood | 702 sq. in | 180ºF to 500ºF | |
| | Char-Broil Offset | 290 sq. in | | |
| | Camp Chef PG24 | 429 sq. in | 160ºF to 400ºF | |
| | TRAEGER BBQ155.01 | 292 sq. in | | |
| | Camp Chef Woodwind | 570 sq. in | 160° F up to 500° F. | |
What actually is a Pellet smoker:
Pellet smokers are basically a re-modeled home heating system, introduced by Oregon's Traeger in 1982. It used to operate by burning wood pellets made from compressed sawdust, which was a by-product of local lumber milling.
But demand for these kinda furnaces and wood pellets dropped off after winter. So Traeger came up with an innovative idea and they attached a grill that would burn pellets to operate. This is basically how pellet smokers were made first, and it's still the basic operating system of modern day pellet smokers.
But these smokers were too basic. Most of the smoker controller had three settings—low, medium, high; and there wasn't any temperature probe in the oven to create a feedback loop either.
So a user would never have any information about what's going on inside and what's the actual temperature there. Thus he could never have total control over the process as they didn't have any chance to make changes according to the condition inside.
But the scenario is different now. All the manufacturers of pellet smokers have switched to digital thermostatic controllers which dictate pellet-feed commands based on the information given by a temperature sensor, positioned inside the cooking box.
It operates just like the oven in your kitchen, you just set the desired cooking temperature, and the heating system will adjust according to the situation to maintain that set point. There's an LED display that will show you all the data like,  your set temp, current temp inside and all.  And most models will allow you to toggle between set temp and actual temp readings from the internal thermostat.
Best pellet smokers reviews 2019:


In this segment, I'll honestly review the pellet smokers available in the current market, that I've come in touch with. These are actually the top considerations for you if you wanna get the perfect smoker for you. So, let's have a look..
1.
1.REC TEC Wood Pellet Smoker: Best pellet smoker under $1000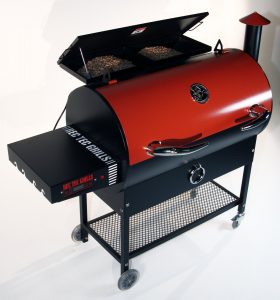 There are hundreds of reasons for saying that. But firstly comes its smart grill technology that maintains a precise temperature from 180ºF to 500ºF in 5º increments. Thus you can set any temperature you need to cook your food perfectly. And temperature doesn't fluctuate much; in fact, minimal.
Huge cooking space:
Then comes it's huge cooking space of 702 Sq.inches. You can handle any family gathering and reunion of friends with it. And it works full functionally even when fully loaded. A consumer mentioned that he cooked food for 13 adults and five children in a thanksgiving. He cooked 24 pounds of turkey, 12 pound ham and some veggies with the smoker.The taste was great, made everyone go fully there were leftovers Thus you can guess how much food it can cook at a time perfectly.
The smoker features a touch-pad which is pressure-sensitive.That makes it easy to set the temperature and have it maintained throughout the duration of its use.
It has a PID algorithm. You don't have to worry if you don't know what that means. Just know that it's another proprietary technology that can maintain a constant temperature.
Large display of control:
With the large LED display of it, you get to know what actually is going on. It shows all the data you need to cook the food perfectly like temperature inside now (if there's ant fluctuation), remaining time, the temperature you set etc. You'll have the control over the full cooking process with this display.
It looks premium outside with it's exterior. And, it's too durable with that. It has a high temperature durable textured powder coat finish along with micro polished stainless steel bullhorn handles.
Pellet use is far less than you'd expect in a high end smoker like this. Thus it's cheaply maintainable.
It might look like a complex machine but actually, assembling it is easy and pretty straight forward and will take about an hour.
You'll get a lengthy 6-year limited warranty for this smoker, which can be considered as one of the most extensive within the product category. And the customer service was refreshingly personal, prompt and the first rate.
I recommend using REC TEC Premium Hardwood Pellet with REC TEC Grill. Manufacturer have precisely calibrated it to produce accurate reliable cooking temperatures when these pellets are used with it.
Pros
Smart grill technology.
Huge cooking space.
Brilliant and constant heating.
Durable, sturdy and premium.
Produces natural tested dishes.
Cons
Price might be little high, except that I that i haven't found any concerning issues to talk about.
2.
2.Char-Broil Offset Smoker American Gourmet Grill; Best pellet smoker under 100: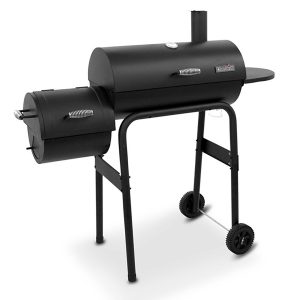 The Char-Broil Offset Smoker American Gourmet Grill is a great little smoker priced under 100 bucks, in fact, 80! This smoker is perfect for the price. It will give you decent performance in all the sections, and great in terms of taste of the dishes! On the other hand, it will cost you less than you can expect for an Offset Smoker.
2 cooking chamber:
The smoker has 2 chambers, Main and firebox. This technology is used for getting classic indirect cooking through the transmission of smoke, low heat, and flavor, through the cooking chamber.
You get a 290 square inches of cooking surface in main chamber, and 140 sq. inches in firebox chamber (for foods you wanna get burnt in direct smoke). So the cooking space is good for a little smoker like this and it can handle a little army.
There is a simple door in this unit for easy ash removal and a convenient side shelf as well. This will make the cleaning job easy for you. Though it doesn't get that dirty, still a help is a help.
It comes with adjustable dampers. If you need to adjust heat and smoke depending on what is preferred, this will make things easy for you. 
The Char-Broil American Gourmet Offset Smoker is ergonomically designed for user friendliness. It's very simple to operate and really it's no complicated machine.
Even after being cheap, the build quality is surprisingly good for a cheap smoker like this. The body is made of good materials and thus it's somewhat durable. With care, you can use it for pretty long.
It comes with a cool touch handle, allowing you to move the smoker around with a firm grip without burning your hand.
The grates inside cooking space is porcelain coated. Thus it doesn't get unable to use after a little use.
I recommend using a grill cover to protect your investment and keeping the firebox clean to avoid flare up.
Pros
Amazingly low priced for its performance.
Have a good combined cooking space being a little-sized smoker.
Simple door and convenient side shelf for easy cleaning.
Adjustable air damper.
Cons
Materials used to build this are okay, not great.
Produces inconsistent heat sometimes.
Kind of small if you wanna handle large gathering, otherwise okay.
3.
3. Camp Chef PG24 Pellet Grill:
The camp chef PG24 Pellet grill was designed keeping amateur smokers in mind. The manufacturer added tons of features and easy operation system to make the smoking process easier for beginners. When it comes to ease of use, this will definitely prove to be an option that is exceptional.
There's a  built-in digital thermometer in it to take the guesswork out of cooking. With the thermometer, you will know the exact situation inside the cooking chamber, thus you can take action according to the situation. No more over cooked or under cooked from now!
Excellent controlling:
Controls on this unit are excellent. It maintains the heat consistently. The temperature inside doesn't fluctuate much, thanks to its dual temperature control sensors that monitors and controls the process. When the temperature falls, the hopper throws another pellet on the fire according to the reading of the sensors to heat the unit up. No other type of smoker can provide this type of control.
This pellet smoker has a large cooking area of 560 cubic inches, decorated with removable upper racks. Thus you can cook good amount of food at a time to serve a small gathering.
Heating on this unit is brilliant. It can be risen the temperature up to 500 F, while other smokers struggle to get close around 400. With this kind of heating, you can cook many more kind of food that you can't do with other units, such as poultry.
The Camp Chef PG24 is a solid built unit that weighs in at 128 pounds. It's a sturdy unit that is made of steel, so it promises durability. Users mentioned they have been able to use this for long period with minimal maintenance.
Its pellet hopper has a capacity of 20 pounds, and that's great. There's no chance of running out of fuel in the middle of cooking. The pellets are automatically dispensed throughout the cooking process. And, it consumes fewer pellets than other similar ones. Thus cooking on this is cheap also.
Cleaning this smoker is easy because of its trap door. In this one, you'll have easy access to the burn pot and won't have to dig through grease and ashes to clean this one. It's much easier to clean this than most other units in the market.
Pros
Brilliant heating unit, more heat and less fuel consuming.
Great control with dual temperature sensors and built-in thermometer.
Good cooking area with removable upper racks
Somewhat effortless to clean
Cons
The lid material is not good.
One can find the price to be a bit high.
4
4. TRAEGER

BBQ155.01

PELLET

GRILL
Traeger has been an old name in producing great pellet smokers is the BBQ155.01 Junior is another great one from them. Being made for small families, it's named junior. And thus it doesn't have a huge cooking space, but a decent space of around 300 sq. inches. But for quality, the taste of dishes, efficiency, etc., it beats every other smoker in this range.
Before getting to other details, I have to talk about the dishes it produces. It might have other great features, but the taste of dishes beats them all. It so organic and smoky, and it's exactly what you'll want from a smoker. I found no owner that could complain about the food's taste.
Unlike many other pellet smokers, it features an electronic auto start. You just need to turn the switch on and then the pellet will be automatically heated and will be fed directly to the auger.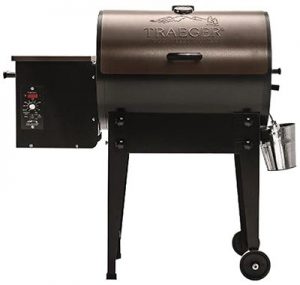 GREAT HEATING UNIT, AND GREAT CONTROL WITH THERMOSTAT:
Like other Traeger smokers, heating unit has been good on this one too. Beings mid ranged smoker, it can reach consistent high temperatures like the REC grill, which is a 1000$ smoker. Because of the good heating unit, the temperature doesn't fluctuate even when it's full. The auger and the induction fan will work together to provide consistent heat. And it provides much more even heating than gas or propane.
A digital thermostat on this unit takes the guesswork out of the equation. The temperature will be detected and adjusted automatically according to a situation. Chances of getting over-cooked or under-cooked food are not there.
The entire unit is very easy to operate. Traeger wanted this smoker to make user-friendly, thus they made sure it'snot complicated. It will suit great even a beginner smoker.
This smoker is portable, thanks to its foldable legs and attached wheel. So this smoker becomes a great choice for camping needs.
This unit is well built with a bronze led finish. The material on the smoker is good, and it is expected to provide good durability. Users mentioned they could use this one for pretty long, without any major issue.
EASY TO CLEAN:
The junior is fairly easy to clean. The primary reason for that is it doesn't get too dirty. It's large drip pan rarely catches fire from grease drippings. The grease is also nicely channeled to the drip bucket thus it doesn't get dirty.And it won't need necessary clean after every use. It might need one after several uses.
It has a fuel capacity with it's 10-pound hopper. It's enough to handle foods that fit in its comparatively small cooking space.
Only issues it has is low cooking space. If you don't cook for large family or that frequently, it's great choice for you. Otherwise, not! And it is a little bit expensive to maintain as it consumes a little bit more pellets than others, to maintain it's great heating.
Pros
Great and consistent heating.
Smart temperature control.
Awesome taste of dishes it provides.
Ease of cleaning.
Cons
Little expensive to maintain.
Comparatively low cooking space, if you need to cook for a large crowd. Otherwise, okay!
---
5
5. Camp Chef Woodwind Pellet Grill Review: Best Pellet Grill 2019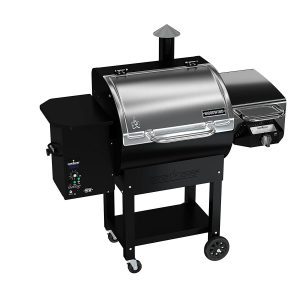 Looking for a pellet grill that will help you cook all your food without much hassle while delivering quality results? Then the Camp Chef Woodwind Pellet Grill should be one of the very best picks you can have. Offering a spacious cooking area of 570 sq Inches and a removable upper warming rack, this device will even allow you to cook enough food for your entire neighbourhood. The grill has a grilling area whose dimensions are 19.5″ x 22″, a smoking/warming rack with a dimension of 6″ x 24″, and a side shelf with dimensions 16 x 12 inches. Besides the hopper capacity is 18 lbs. of pellets, allowing you to have enough fuel to cook your food without having to load pellets now and then.
As for the smoking, you will love the smart smoke technology, which makes it possible for the grill to control the temperature so that it remains optimum, while also producing just enough smoke to flavor your food excellently. Regarding automation, an electric auto-start ignition feature is availed to bring in more efficiency for your grill, while eliminating lots of hassles for the user.
The control system is also worth noting, as it features a dual LED temperature readout, for efficient monitoring of the temperatures, and an easy set selection system. The temperature range is perfect, ranging from 160º F up to 500º F which means that you can achieve a variety of activities ranging from slow smoking to grilling. You also have a meat probe to help monitor the internal temperature of what you are cooking, so that you set the perfect temperature. You also should expect the temperature to remain consistent since an automatic pellet auger does the job of feeding pellets into the grill so that there are no temperature variations that may lead to uneven cooking.
When it comes to the cleanliness of the system, a patented ash clean out system has been included to lessen the worries about getting rid of the ash. Other than that, you will have a bottom shelf, where you can place various items that you might use now and then.
For those who are worried about searing, there is a whole separate unit dedicated to offering you the best experience as you sear your food. The system has a stainless steel construction to allow for durability, while also raising temperatures up to 900 degrees Fahrenheit. It has a propane burner for high heat, as well as a propane tank holder, to ensure that the system maintains a high temperature consistently. As for the mobility of the grill, you never have to ask for help moving the unit since it's four-wheeled for enhanced mobility.
Pros
The system lights instantly.
A computerized temperature control is available to bring in more accuracy and efficiency.
You will always have evenly cooked food, from the convection heating.
The grill uses smart smoke technology for effective smoking.
You can grill, smoke, bake, roast, BBQ, and sear when using the system.
Cons
The ash tray clean out fails to open at times when cold.
Benefits of pellet grills/Smoker
They are versatile since you can smoke, barbecue, roast, grill, etc.
Pellet grills preheat fast.
You always get even cooking since pellet grills work like convection ovens.
With a pellet grill, you will never over-smoke your food, unlike when using wood or charcoal fire.
As for the flavor, you can get a variety, ranging from maple, cherry, mesquite, apple, bourbon, and others.
The above are just some of the benefits you gain from using a pellet grill. There is much more you need to discover on your own, as some of these benefits will even get down to personal preferences.
However, when buying a pellet grill, you will realize that the market is filled with grills that claim to have almost similar capabilities, and that makes it even more confusing. However, when you know something about pellet grills, and you know the factors to consider, then buying a grill can get a lot more easier. As such, let's first go through the various factors you need to consider when getting a pellet grill.
Pellet Smoker buying considerations
Price:
Everyone has a price range within which they will feel comfortable when purchasing something. However, even as you consider the prices, keep in mind that buying a cheaper grill might undeniably save you some money at first, but will cost you more in the long run, when it starts misbehaving. It would be better if you were able to save some cash, and get a better grill for a better value so that you are sure that the grill will serve you for extended periods.
Build construction:
Just like other cookware in this category, the build consideration of a pellet grill should be an important consideration, since it affects how long the machine will serve you. If you are at a store shopping for this device, lift the lid and feel whether it's light, or heavier, and build from a heavier gauge steel. For those shopping online, reviews from other customers may be a guiding factor as to which grill seems to be of a high quality.
Temperature range:
This is another important factor you need to consider when buying a pellet grill. Most pellet grills won't have an issue getting the temperatures from 180°F to around 425°Fahrenheit. However, for things like searing, the temperature needs to be as high as 500-550°Fahrenheit. That is why most high-performance grills will have a temperature range of 500°F-700°Fahrenheit. All in all, ensure that the pellet grill you buy has the best range to complete the tasks you need to efficiently.
Pellet Grill Controller
Since cooking various foods requires that the temperatures be consistent while changing at times, you need to get a pellet grill that has a controller that offers a variety of temperature settings. Most grills that are cheap will give you fewer options, with the majority sticking to three temperature settings, which are low, medium, and high. Better grills will even allow you to increase the temperature by a difference of 5 degrees.
Size and cooking area:
Depending on the number of people you want to cook for, consider a pellet grill that will accommodate just enough or more food to so that you won't keep on cooking to feed such a number of people efficiently. Smaller families and couples should consider getting a small sized pellet grill, to allow more efficiency when cooking small meals.
Features and capabilities:
There are some pellet grills which offer sophisticated features such as WiFi capabilities so that you can remotely monitor your grill, while other grills will offer little to none advanced features. Depending on your preferences, research more to find out what extra features you can get from your grill.
Pellet smoker Buying Guide:
Okay, let me help you decide yourself which unit will be perfect for you according to your conditions. In this guide, I'm gonna tell you what should you keep an eye on while looking find the top pellet smoker for you. I'll describe what makes a smoker good or bad.
Let's get started.
Firstly, determine why are you buying it for:
The reason behind saying this is, the manufacturer makes different smoker to serve different purposes. They make cheap small smokers, as well as large costly smokers. So, if you don't cook often and when you do, you cook only for the little family having 3-4 members, buying 1000 bucks large smoker would be foolish.
So, first determine the purpose you are buying it for.
Small smoker:
If you need to cook a small amount of foods for a little family, go for a smoker that is cheap because of not being too large, and is used with good features like heating, temperature control, ease of cleaning etc.
The Char-Broil Offset Smoker American Gourmet Grill can be a great choice for this. It is the best pellet grill under 100 and it handles the small amount of food better than any other.
Big smoker:
If you like to have the large friend or family gathering often, thus need to smoke large amount of food, go for something big and useful like REC TEC Wood Pellet Grill.
In this case, you need to make sure that the smoker doesn't only fit a large amount of food, but also doesn't fluctuate much in terms of temperature while loaded fully. And the REC TEC Wood Pellet Grill doesn't do so. Certainly, it handles a large amount of food well and it's the best pellet smoker under 1000.
Medium smoker:
If you have to do both, means generally need to cook food for less persons, but sometimes have a somewhat bigger gathering, something like Camp Chef PG24 Pellet Grill would be ideal. 
In this case, you need to make sure it has a decent amount of cooking space, around 500-600 cubic inches, and it's heating unit won't fall apart while given the pressure of a fully filled cooking area. So decent cooking space and good heating unit are must for this category, and nothing is better than Camp Chef PG24 Pellet Grill for this.
Secondly, fix your budget:
There are hundreds of products on the market, with different price tag and features. Among this large amount of products, choosing the perfect product for you can be a real mess without having a budget in your mind.
So, my recommendation is you keep a budget in your mind and have a bit of liquidity in it.
Thirdly, rate a smoker good having this features:
Good heating unit: It's a must. At the end of the day, all matters are the taste of dishes, and it depends on getting the perfect temperature. You won't like an under cooked or over cooked food. So make sure a smoker has a good heating unit that can be risen the temperature high and also has good control-ability.
Good space with removable racks: In a smoker, you need the good amount of space to cook the amount of food you need. So make sure it has a decent amount of cooking space. And, having removable racks into the cooking area is useful, as removing the rack, you can cook a full turkey or something like that in it.
Build quality and durability: Who like a cheaply built material? I'm sure no one does, for any kind of machine. So, make sure your unit is also made of good material, that ensures durability. You won't like your smoker fall apart after a little use. Not to let this happen, choose a smoker built well with quality materials.
Frequently asked questions about pellet smokers:
Q: Are pellet smokers really better than other smoker types?
A: For a quick answer, yes it is! But make sure, you are not comparing a pellet smoker of 100 bucks with the other smoker of 1000 bucks. In a certain price range, pellet smokers perform better than other ones.
Q: How the foods smoked by pellet smoker tastes like?
A: Bingo! you described the best reason why pellet smokers are rated highly. Forget all other things, at the end of the day, taste matters. And pellet smokers provides organic tasted foods, with real smokey flavor, which most other types of smokers don't provide even with wood chips.
Q: Is a pellet smoker costly to use and maintain?
A: Nope, but little costlier that electric smoker, not by a big margin though. But beats the electric ones in terms of taste of dishes by a big margin.
Q: Is this the best type of smokers?
A: For me and many other experts, it is! It's the 'old-school' kinda thing!
Verdict
If you are a professional in grilling, baking, roasting, searing, etc. while using best pellet smoker/grills, this might be the grill you have been looking for, as it offers a lot more when compared to other grills. Even when using it on a personal level, it delivers more than expected, given that the price is quite accommodative when compared to other grills. In overall performance, this pellet smoker reviews is worth every monetary effort you make to acquire it.
PROS
They are a mixed and high-tech unit. They combine features of other types.
They aren't very tough to control either.
Pellet smokers produce tasty dishes.
They are pretty safe.
CONS
They're mostly average on everything, which may be good to some people, but also not to some people who love extra-ordinary food or very much ease of operation.
A good-quality pellet smoker can be a little expensive.