To spend leisure time at home or to have to party with friends, the desire for best-flavored meat is mandatory. And people who've mastered the art of smoking, have always preferred using offset smokers instead of barrel smokers, water box or pellet ones to get the best smoky-flavored meat. That is because the richest smoky flavor can be best obtained by the offset smoker only, not by an electrical or charcoal one.
Again, offset smokers are actually a great way for you to get into food smoking. Because they are considerably cheaper than most electric or propane smokers with prices starting at around $70 for a decent model.
But, understanding the usefulness of an offset smoker is not hard. The challenging part about offset smokers is finding the best offset smoker for your need. There are various types of offset smokers available in the market coming from various brands. So choosing the perfect offset smoker for you could be a tricky job.
Choosing the best offset smoker, Name of the game:
There are some very cheap offset smokers available on the market that very often fool people. They look and seem great, but their performance sucks. Remember, they are cheap for a reason. So to make sure you don't get carried away in the sea of variations of offset smoker trying to find the best one. I'm referring the 3 best offset smoker below along with a short review of them.
Additionally, I'll provide a buying guide which will help you to understand how to judge a smoker and how to find the good offset smoker for you by yourself. And, I'll provide some quick problem and solution about offset smokers also that people always face.
Quick Comparison Table of 5 Best Offset Smoker:
Editor's Recommended Top 3 Offset Smoker Pro's & Con's
1
1.Char-Broil American Gourmet Offset Smoker, Standard:
The Char-broil American Gourmet Offset smoker is a cute little offset smoker which performs great yet has a very low price tag on it. Thankfully, this smoker definitely won't break the bank as it's priced under 100$. And that's the best side off it. It's perfect for the price.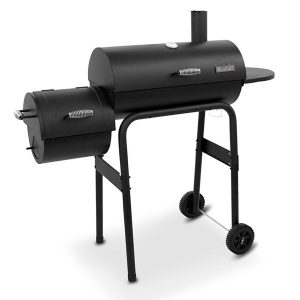 It's a combination of Offset Smoker, BBQ & Charcoal Grill. Yes, this works great as a grill also. Furthermore, it works well as a grill with very few coals. It has a 290 square inch cooking surface in main chamber and 140 sq. in. cooking surface in the firebox chamber. Apparently, it is a great option for the "entry-level" smoker or those who don't need to feed an army every time you cook.
Classic indirect cooking will be a pleasure in this as the offset fire box allows the transmission of smoke, flavor, and low heat, through the cooking chamber. And as I mentioned above, the cooking chamber is covered by a 290-square-inch porcelain wire cooking grate.
There is a simple door for easy ash removal as well as a convenient side shelf. As with all grills, I'll advise you keeping the firebox clean to help avoid flare up and using a grill cover also to protect your investment.
The Char-Broil American Gourmet is great in terms of assembly. You'll receive it with most parts assembled, so you will have an easy time assembling it. On average, you will need to spend about an hour or so to assemble it and get it working perfectly. And it has two wheels underneath it for mobility.
For long time use, I'll recommend that you must buy a cover for it, and take good care of it. Because it can be vulnerable to rash using.
PROS:
Decent enough space to cook food, unless you need to feed a huge army every time you cook.
Great temperature control, I sensed on this particular model.
Well built from good materials, will last more with a little care.
One of the best entry level smoker in the market.
CONS:
You'll might have to modify the shape and size of this smoker's chimney. Without doing that, the smoker unit may puff out more smoke than you expect.
2
2.Dyna-Glo DGO1176BDC-D Charcoal Offset Smoker: Best Offset Smoker Under 1000
The Dyna-Glo DGO1176BDC-D is the perfect model for those who are looking for huge space in a vertical offset smoker. With huge 1176 sq. inches of cooking space and 150 pounds capacity, this smoker can seriously cook food for an army. And, not only regarding space, it performs well in other sections too such as temperature control, nice passing through of smoke and producing a tasty dish at the end.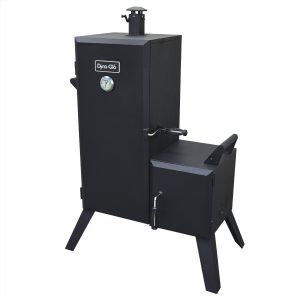 Vertical design made slow cooking a bliss:
The vertical design of this smoker lends itself to naturally rising heat, thus achieves greater efficiency and a improved smoke flavor. And, offset design of this model keeps direct heat away from the food that allows you to use it for slow cooking.
Huge cooking space:
The huge cooking space of 1176 sq inches of this smoker is decorated with six height-adjustable cooking grates that accommodate various sizes of food. So no matter what you'd like to smoke, this smoker will adapt it. And, it can hold 150 pounds of food at a time, means 25-pounds capacity per grate.
Built-in temperature gauge:
The built in temperature gauge in it lets you easily monitor smoker temperature. Thus you know what's exactly going on inside.
Well-built and durable:
This model from Dyna-Glo is built from good-quality steel for long time use. The heavy-duty steel body construction with the high-temp powder-coat finish will ensure long-life durability. With minimal maintenance this charcoal offset smoker is going to serve you long, for sure.
Wood chip box for flavoring:
This unit has a porcelain-enameled, heavy-gage steel wood chip box that delivers maximum smoke flavor. It makes sure you get perfect flavored and tasted food at the end.
Cleaning is easy:
Cleaning is an easy job with the Dyna-Glo DGO1176BDC-D charcoal offset smoker. Because, the nice grease management system in it collects condensation and drippings from inside the food chamber and makes clean-up easy. This model is designed to handle large amounts of ash at a time for hours of maintenance-free cooking.
PROS:
Huge cooking space of 1176 sq. inches of cooking food for an army.
With its vertical design, it takes slow cooking to a new level, and can cook 150 pounds of food slowly at a time
Cleaning up this smoker is a bliss with its great ash management system.
It produces tasty dishes, could be considered as one of the offset smokers out in the market.
CONS:
It Could leak some smoke sometime, not to a great extent. It's fixable though with covering the points where the smoke leaks out from with silicone rated for high heat.
3
3.Char-Griller 1224 Smokin Pro 830 Square inch smoker:
The Char-Griller 1224 Smokin' Pro is a professional grade and one of the most versatile grills on the market that offers more features than many grills twice its price. This smoker is made of heavy-duty, powder-coated steel that makes it last longer, and the grill is made of non-stick cast iron to avoid warping. Both professional BBQ'ers and backyard enthusiasts love this smoker for its unique features.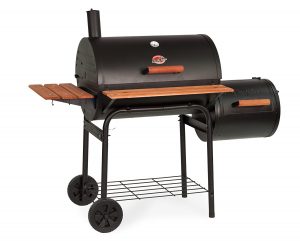 Great cooking space:
This 1224 smokin' pro model from Char-Griller offers 830 square inches in total cooking space, with 580 sq. inches in primary cooking area and 250 in secondary(side firebox). The 250 sq. inches' side firebox will give you that Texas smoke flavor. Overall, this smoker is spacious enough for you to cook food for a little army. And they've decorated the cooking space with cast iron cooking grate for even heating.
Solid and Durable Construction:
This Unit is made of heavy-duty steel and powder coated with a double bottom for long-term durability. Powder coat finish will give you long-lasting color. And you are getting cast iron made grill giving a wonderful sear to your food. And, there are three available shelves for nice organization. Keep all your grilling essentials within easy reach.
Great Control:
There are Adjustable Fire Grates in this model for giving you Hot, Med, and Warm temperature control. Depending on your need, you can have a different amount of heating by moving the fire grates up and down, and keep the food warm on the available warming great.
Nice and Easy Clean Up:
The easy, quick and efficient dump ash pan makes cleaning up easy for you when you're done! You'll just need to pull out the ash pan on the grill from the side of it and dispose of it appropriately. That's all, and you are done! There will be no more tipping over the grill to clean out the ashes, not with this offset smoker from char-griller!
Other nice features:
There are some unique little other features available on this model. It features a built in heat gauge for getting control over temperature. There's also an airtight flanged hood, and 2 shelves or storage racks, and 2 wheels for easy transport. And you can easily add coals without removing the entire grate in this model.
PROS:
Pretty big(850 sq. inch) cooking space, decorated with cast iron adjustable cooking grate, produces Texas-style barbecue.
Solid construction to last long, powder coated finish.
Cleaning up is a bliss with this one.
CONS:
Nothing serious to mention, just assembling can be a bit tricky.
The Best offset smoker Buying Guide:
What to look for while choosing the offset smoker? 
⇒Budget:
The first thing you wanna do while looking for the offset smoker for you is fixing your budget. But while doing that never forget buying a cheap smoker doesn't always mean you are winning. Always look for a good price-performance ratio. A good quality offset smoker will be costing you some money. And that could be from a few hundred dollars to many thousands for a custom-built offset smoker.
I suggest you should be willing to spend at least a few hundred on a quality smoker to get good performance, good craftsmanship, and quality material.
⇒Build Quality:
If you are willing to use your smoker for a long period(which I know you do), you should never compromise on build quality. This is a must have qualified for the offset smoker.
If you want stability and durability, you need to make sure that the offset smoker you are choosing is made from a heavy-duty material like steel. The gold standard heavy-gauge (1/4 inch) steel is the best for this case. For interior finishing, porcelain interiors are great as they are easier to clean. And a removable charcoal rack will help to ease the cleaning process as well.
The smoker should look and feel substantial. And the base should be stable, wheeled ones are better.
You want to make sure that your smoker is built right in every aspect possible. You should make sure that there are no improper seals or bad welds, which can lead to leaks. The welds should be strong. Furthermore, make sure that the seal between the firebox and smoker is adequate. And Don't forget the handles. Make sure they are insulated. The offset smoker is expected to be built to last and should be easy to maintain and use.
⇒Size:
This thing depends on how much food you generally need to cook at a time. The smoker big enough for your entertaining style.
First, decide whether you are going to be cooking a whole hog once a month, or you're gonna be smoking the occasional ribs or pork shoulder. You'll need a different kind of smokers for different cases. If you need to feed an army every time you cook, go for something big like Dyna-Glo DGO1176BDC-D Charcoal Offset Smoker with 1176 inches.
But, if you need to feed a small or medium-sized audience, then the Char-Griller 1224 Smokin' Pro could be a great option as it has 830 sq inches of cooking space. I'm recommending it even for small-sized audience because I always recommend people to buy more grill or smoker than you think you'll need. This will be inspiring you to stretch your imagination and grow your skill set. And it won't harm if you have spare space, but it will if you run short.
⇒ Bottom-line about offset smokers:
The fact is the weather will impact your offset smoker's performance no matter how good it is, from the rain to the wind. And a good quality offset smoker might cost you a bit more money than any other model. But, they produce the best tasting smoked food comparing to all the smokers available in the market.
That, in my opinion, make them worth the money and sensitivity. I undoubtedly can say, smoking on them is an addiction, a delicious addiction!
Quick Problem & Solution offset smokers:
→Problem: I'm new to cooking with offset smoker. I need some tips and precautions.
Solution: An offset smoker takes some time to get used to, so you will need some patience and also a bit of love for smoking. While cooking, you will need to constantly check the fire, and you will have to rotate the food properly to ensure that it cooks evenly. An offset smoker surely demands some effort, but it is really worth it.
→Problem: There's some smoke leaking from the cooking chamber and the lid of the firebox.
Solution: I'll suggest you seal the lids with the high-temperature gasket by the roll or high-temperature silicone. Nomex makes a gasket roll that can take up to 800 degrees F.
→Problem: I've bought an inexpensive offset smoker and after just a couple of years, it is beginning to rust and the grill becoming pretty rough.
Solution: Repainting the affected areas with high-temperature paint will help. For grill grate, replace it or sand-blast it at a machine or automotive repair shop.