This Smoker Will Have You Eating From The Palm Of Your Hand. Check Out Masterbuilt 20072115 Bluetooth Smart Smoker full  Review & Buying guide.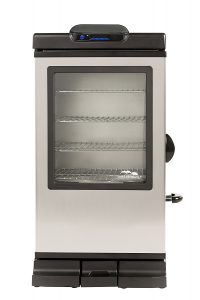 Masterbuilt 20072115 Bluetooth Smoker
PROS
Very easy to set up and start using
Easy to clean the chrome-coated racks
Very spacious, unlike other smokers
Easily set the right temperature for your meat to cook
Easy to move because of the back wheel
Easy access to your smoker via Bluetooth
Very large cooking space
CONS
Internal thermometer may not work after a few uses
Bluetooth range is not too far
Although smoking is considered an old way of preparing food, it certainly makes very tasty meals. Now you can enjoy your favorite smoked foods with a lot of ease due to technology. There are so many different smokers to choose from, and one of the very best is the Masterbuilt 20072115 Bluetooth Smart Digital Electric Smoker.
Design
It comes in two different sizes 30 inches and 40 inches. It has a large cooking space and four chrome coated racks for smoking. A built in thermometer to ensure your meat is smoked at just the right temperature. Very easy to load wood because it has a side loading system. With this device, you actually get to connect it via Bluetooth. It also includes a classic control panel that is blue in color and LED.
Functionality
It is a good device for people who want to smoke food for the very first time. If you are a lover of smoked meat, then this device is for you because of its flavor that is so rich and pure. You get a well-smoked piece of meat that is soft and just so juicy, with a nice smoked flavor. If you truly want to know how sweet and delicious your food can be, you should definitely try this device out.
It doesn't actually matter what you want to smoke; ribs, pork, brisket, chicken, chops or fish. The end result will never disappoint you. If you have never eaten succulent, sweet ribs that just call to you and you just can't get enough of them, then you have not tried the Masterbuilt 20072115 Bluetooth Smart Digital Electric Smoker. Meat has never been this great, and it will change your whole perception. You just may never want to eat anything that has not been smoked again.
Features of Masterbuilt 20072115
Large cooking area
The 30-inch model has 721 inches of cooking surface space while the 40 inch has 925 inches. It can easily accommodate 80 pounds of food with its four chrome coated racks. With all this space, you can easily smoke all the meat you want at the same time. This makes it quite efficient and time-saving. Smoking meat is truly made into an art by this device.
Temperature Control
It includes a thermometer and you can easily check the temperature your food is cooking it. You can easily adjust it depending on how you want your food, and how fast do you want it in your mouth. Temperature control truly lets you take control of your meat smoking.
Bluetooth compatibility
How cool is it to control your smoker easily using Bluetooth? It easily connects to your smartphone and you can use it to control it. If you love your phone and smoked meat, then this feature is going to amaze you. You get to use your smartphone and you still get to eat all at the same time.
Side wood chip loading system
This feature actually allows you to add more wood without interrupting your cooking process. This ensures heat is not lost, and your meat is prepared at a constant temperature.
Window on the door
This means you can view your food while it is still cooking. This is a unique feature that most smokers do not have. You get to see you meat cook without having to open the door. Smoke never gets out and your meat gets that more delicious.
Timer
You could easily set the time for your meat to start cooking. This will ensure you always get your meal ready when you need it to be.
Conclusion
This is an amazing device that is both sleek and very efficient. It is a beautiful combination of technology and cooking. I would recommend the Masterbuilt 20072115 Bluetooth Smart Digital Smoker to all the people who love their food smoked. It is very durable and of a unique and lovely design.