The 40-inch electric smoker by Masterbuilt is a beast. It's got some unique, new and useful features over the other products of masterbuilt. The blue LED display for easy viewing in direct sunlight, an internal light with viewing door for monitoring what's going on inside, Bigger cooking space than other master built smoker of 975 sq. inches and so on. The Masterbuilt 20075315 40-Inch Electric Smoker is literally loaded with unique features.
It's fully insulated, comes with 4 chrome-coated racks, built-in radio frequency(RF) remote control, built-in meat probe that works very accurately, smooth operating wood chip loading system, back wheels for moving and some other features that makes this smoker one of the best electric smoker in the market.
And the finished smoked product? EXCELLENT! This has been the best part of this smoker, and I know this is what you want.
Technical Details of Masterbuilt 20075315 40-Inch Electric Smoker: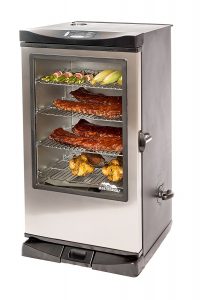 Color: Stainless
Item Dimensions: 40.15 x 20.07 x 25 inches
Product Weight: 72.97 pounds
Heating unit: 1200 watts
Material Type: Steel
Style Name: Front Controller
Masterbuilt 20075315 Front Controller Smoker
PROS
Good cooking space of 975 sq. inches, well decorated with 4 adjustable racks.
Good heating unit of 1200 watts and built-in meat probe to check the temperature of meat.
Digital control panel with blue LED light to monitor the overall process.
RF remote control to control the smoker without leaving your seat.
Fully insulated, minimal or no smoke loss to ensure perfect smoking.
Comes with wheels, easy to move around.
Replacement parts are available, usable for long with minimal maintenance.
CONS
The front controller is not waterproof, you wanna keep it covered in case of any raining.
Cleaning up is not the easiest. ( A easier tip is given below)
The moisture of the meat makes the glass somewhat unable to see through, so you need to clean it after every use, then it won't be an issue again.
Click Here To See More Images & Features On Amazon
Key Features of Masterbuilt 20075315 40-Inch  Electric Smoker:
Here are some features that will show why it's considered as one of the top quality smoker.
Good Cooking Space of 975 sq. inches:
It's cooking space is bigger than other masterbuilt electric smokers and it's big enough for any regular user.  You can easily cook ribs, pork, seafood or poultry, these will easily fit in and cook well. You can enough cook food for a family reunion or gathering of friends.
The 4 chrome-coated racks inside are adjustable. You can remove them when you don't need them, Like if you need to cook a poultry you can take them out. I recommend taking the ones out you don't need, so you don't have to clean them after using them.
Control Panel with Blue LED light, and RF Remote Control:
There's an integrated control panel on the smoker to monitor and control the overall cooking process. The panel has a Blue LED light inside for easy viewing in direct sunlight and you'll be in control over the whole cooking process with this.
Additionally, there's also a "pager" sized RF remote control system installed. With this you can monitor time, temperature, meat temperature, and switch internal light, on/off, from saying even a 100 ft out. This makes things easy for you to control the cooking process, without leaving your chair.
Good heating unit, built-in meat temperature probe:
The masterbuilt 20075315 has a good 1200 watts electric heating unit, which can raise the temperature up to 350 degrees F. It's enough to cook any kind of food, from fishes to any type of meat.
Unlike some other models of masterbuilt, it produces enough heat to cook a poultry. Some other masterbuilt electric smoker doesn't provide enough heat, thus the poultry comes under-cooked and there can be a chewy skin issue. But that definitely won't happen with this smoker.
And this unit comes with a built-in meat temperature probe that provides accurate data on the heat of the meat. This feature is very useful cause you always know what's going on inside the food, thus can take action in that way. This makes sure you never get any under-cooked or over-cooked food.
Other things to talk on:
There are some other small things that make this Masterbuilt 20075315 40-Inch Electric Smoker more useful. Have a look at them:
Smooth operating wood chip tray:
It has a smooth operating wood chip tray. The tray works pretty easy and smoothly. Though it pretty small and does not hold a very large quantity at a time. So they'll burn out within the first 45 minutes or so. You'll have to keep an eye on this while the food being smoked. Though the chips will last longer if you soak them in the water first!
Front access drip pan and water bowl:
Masterbuilt tried to make this model easy to clean by including drip catching front access drip pan and water bowl. The drip pan, being accessible from the front, makes thing easier to take it out and clean. Though if you cover the pan and cooking racks with aluminum foil, cleaning will be easier by throwing the foil away after use. This will make these parts last longer also.
Fully insulated to minimize smoke loss:
This 20075315 electric smoker from masterbuilt is fully insulated and seals tightly to maximize the smoke. This makes sure no smokes get wasted, and the food gets all the smoke and cooks the way you want. There will be no under-cooked food for lack of smoke in this model.
Front glass to look inside:
There's a glass door on this model to see what's going on inside the smoker. This glass door thing is nice but you need to clean it after every use as it gets unable to see through after every use. This thing is very forgiving if you male an error I set things up. It's useful if you can keep it clean.
Wheels on back to make it easier to move around:
This model has small plastic coaster type wheels on the back, so it's easier to move around if you want. You'll have to tilt it a little bit so it will roll. But don't expect to be rolling it smoothly over rough areas or for long distances.
Minor Assembly:
Yes, it requires a little bit of assembly, but that's minor. It only needs minor assembly out of the box, like attaching the handle, feet, etc. Won't take you more than 30 mins.
Easy to get the replacement of parts:
Masterbuilt does sell a lot of replacement parts for this unit, and it's a very good thing for an electric smoker, as these things are not fully damaged proof. You can buy a replacement heating element and it isn't very expensive. They also sell replacement panels for the front. So you can use this model for long with minimal and cheap maintenance.
Cleaning tips:
Put your items in a disposable aluminum pan. Don't worry about getting the food smoky enough, it will. I've tested. Also, wrap the water pan, drip deflector, and grease pan in foil!  This will be of huge help. Then just toss the foil after use instead of scrubbing. Use Weber's grill cleaner to easily clean the glass,  and rinse after with water. It will make clean up easy! 
The verdict 
The Masterbuilt 20075315 electric smoker one of the best in this budget. There are so many reasons to buy it, as I explained above. But there are not so many reasons not to buy it if you have the budget.
So, If you wanna get a hustle free smoker that will produce EXCELLENT quality dishes, and if you are willing to spend around 350 bucks to fulfill your smoking needs, this smoker is a go for you.