Smoke Hollow Gas Smoker Review: The Smoke Hollow 44241G2 Vertical LP Gas smoker is one of the top quality smokers in the industry, and the largest one produced by the trusted name Smoke Hollow.
Smoke hollow has been producing the best gas smokers in the market for quite a long period and is one of the most trusted names in this era. They claim it's the largest gas smoker they have manufactured, that means it has some serious cooking space.
It has a huge 7 cubic foot of cooking space, which is well decorated with 2 mesh rack, a rib rack, and a sausage hook ring in the top.
This smoker has everything double in it. It features welded 44-inch dual-door cabinet system, two separately control-able 10,000 BTU stainless-steel inline burners, and two porcelain-coated wood chip pan also! These ensure minimal loss of smoke, Constant good heating and brilliant flavoring.
Overall, I've found this smoker very efficient in terms of producing quality foods. This smoker does what it promises.
Quick

Technical

Details: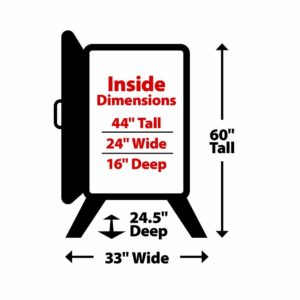 Item:

Smoke

hollow

44241G2

44-Inch

Vertical

LP

Gas

Smoker

Unit

Dimensions:

60

x

33

x

24.5

inches

Product

Weight:

100

pounds

Material

Type:

Steel

Shipping

Weight:

113.7

pounds
Key Features of smoke hollow 44241G2 44-Inch Vertical LP Best Gas Smoker
Here are some brilliant features of Smoke Hollow Gas Smoker that make this smoker one of the best gas smoker out in the market.It is also a very big smoker.
Well decorated and huge cooking space:
This is the largest smoker from smoke hollow. It has a 7 cubic foot smoking space. This large unit measures in at 24.5″ x 33″ x 60″, And weighs about 100 pounds.
It is very well decorated with three standard cooking grates two jerky trays and one rib rack, along with a sausage hook ring in the top.
The 2 mesh racks of it are great for fish and other items that have a chance of falling apart. Consumers mentioned the love the extra width of it is as they don't have to cut their ribs in half.
In a verdict, it can cook some serious amount of food at a time to handle somewhat big gathering. And by the way, there's no chance of temperature fluctuating even if you load it fully, thanks to its brilliant dual heating unit.
Everything double, door, burner and wood chip tray:
The Smoke Hollow 44241G2 44-Inch Vertical LP Gas Smoker has double door, dual independent 10,000 BTU stainless-steel inline burners and dual wood chip tray.
Dual-door cabinet system:
This large smoker from smoke hollow features a double-door cabinet system. This ensures unnecessary loss of heat and smoke while you have to load wood chip or water into it.
During cooking process if you have to open a cooking chamber to replace wood chips,, you may loose smoke, heat and flavoring. And if you have to do this regularly, your food comes out dry and less flavored. This is something to worry.

But The Smoke Hollow unit solves this problem by including a dual door access system. If you need to refill wood chips. You open the door at the bottom, and doing that you won't lose heat or smoke. And this ensures consistent heating and good cooking.
And the upper door of this smoker swings wide open, so you won't have to struggle with getting the food in and out of the cooking chamber.
Though some user complained that the door does not seal 100% effectively. Thus it can cause a little smoke loss. But this problem can be solved easily by using some sealing element on the gap, and it's not hard or expensive to do so. Whereas many consumers didn't complain about it at all, as they didn't think, it's a major issue.
Check Out TOP 5 BEST WOOD CHUNKS
Brilliant Dual heating unit:
This unit comes with fuel-efficient dual and independently controlled 10,000 BTU inline stainless steel burners. The heating unit works brilliantly. It's a larger ash-free combustion system and much stable, reliable heat sources than other gas smokers in the market. This is one thing of this smoker that helps in win the gas smoker vs electric smoker battle.
The heating unit heats up quickly, and it is powerful because of having two burners instead of one. Thus it can easily handle large amounts of food without any temperature fluctuations, even when fully loaded.
And the unit is very fuel efficient. Consumers have mentioned that it uses a very low amount of fuel, especially when you do low temp long smokes.
Two wood chip tray:
The Smoke Hollow 44241G2 44-Inch Vertical LP Gas Smoker also two porcelain coated wood chip pans for brilliant flavoring. And it makes the cooking process easy and relaxing for you as you don't have to tension about the wood chips getting finished too soon.
You load both of the trays with chips and watch it smoke for a long time. You can confidently leave the smoker on for a long time, not having to worry about replacing the wood chips.
One user mentioned that he was impressed by this two-chip tray system as he could put the chips one at a time without handling a hot tray.
And there's a tip I've included in the last portion about how to get the most of this feature.
Intelligent temperature controlling, maintains temperature consistently:
This is another feature of this Smoke Hollow Smoker Review the consumers loved much. They've mentioned that one of the best features of this smoker is its ability to maintain temperature consistently.
The control gauges in it shall serve you well as you can easily set and maintain the temperature with it.
This unit doesn't fluctuate in terms of temperature even when it's fully loaded, whereas the most other gas smoker does so.
Well built, sturdy, durable:
This Smoke Hollow 44241G2 smoker is well-built with heavy-duty steel and designed properly. This unit is promised to last long with minimal maintenance, and it did so to date. Consumers have mentioned that they could use it for a long time without any serious damage of anything.
Here are few other small thing things that make the smoker more useful to use.
Somewhat Easy Assembly:
The Smoke Hollow is large, but fortunately, the manufacturer doesn't include many small parts. Thus it's not that tough to assemble it as it seems so, kind of easy you can say if you follow the instructions properly given in the user manual.
Assembly should complete within an hour or less, though i suggest having a friend to help you with the heavier parts of the unit. This makes the process easier.
Easy To Use:
Inexperienced People love this unit because they like things to go easy and simple. They mostly don't like to fuss with charcoal and pellets.
In this gas smoker, as long as you have gas in your tank, it will work easily and simply as per your set conditions. You just need to fill the wood chip tray and check the temperature gauge sometimes, and the unit does all the rest of the work for you until you get the nicely cooked food. With this Smokey Hollow smoker, it's as easy as that, whereas other smokers are kind of complicated.
Pros

and

Cons

of

Smoke Hollow 44241G2 44-Inch Vertical LP Gas Smoker

:
With all the great features this smoker has, it also has two minor issues. Check them out.
Pros:
Large

7

cubic

foot

of

cooking

space.

Brilliant

heating

unit

with

dual

fuel-efficient

burner.

Double-door

mechanism

to

prevent

heat

loss.

Double

wood

chip

tray

to

ensure

great

flavoring.

Intelligent

temperature

controlling,

doesn't

fluctuate

even

when

fully

loaded.

Well-built

and

intelligently

designed,

durable.

Features

three

standard

cooking

grates

two

jerky

trays

and

one

rib

rack,

and

one

sausage

ring

hook.
Cons:
The

upper

door

doesn't

close

properly,

causing

minor

heat

loss.

Though

it

can

easily

be

overcome

by

including

some

sealing

element

in

the

gap

of

the

door.

The

drip

pan

doesn't

seem

to

catch

the

grease

coming

out

from

large

amounts

of

meat.
Price

and

where

to

buy:
This loaded-with-features gas smoker is not that expensive as you are already thinking seeing all the brilliant features.
The verdict of this Smoke Hollow 44241G2 44-Inch Vertical LP Gas Smoker Review:
The Smoke Hollow 44241G2 44-Inch Vertical LP Gas Smoker is loved by both experienced and inexperienced people because of its simplicity, ease of access, brilliant feature an affordable price.
It ultimately cooks the food well, and you'll get the natural taste.
So this smoke hollow gas smoker is a go for anyone who can afford this, and who prefers gas smoker more than other types as it ensures the natural taste of food!
Quick

tips

to

get

the

full

out

of

it:
1. To make the wood chips burn for long, run both burners to get the temperature up as you need, then install the pan with the chip to lit burner, and shut down the other side. To keep 225, you'll need one burner to set at Low to Medium. When chips are done on one burner side, light the other side up and install the other pan and chips. This way, you'll get the highest burning time of chips.
2. This was an experiment by me about how to get the desired temperature in the easiest way. For example, if you prefer to have the smoker temperature to be 225 F, you should fill the water pan, and turn only one burner to Medium level. Or if you want it to be around 250 F, then no water, and again set it to medium. 275. For 275, Water and both burners on Medium. And for 300 F, no water and both burners on high.