Smoking is one way that you can get your cut meat to cook and have an irresistibly unique and delicious flavor. After you have made the decision to acquire an electric smoker, the next task now is to determine the kind of model that you would like. It can be the most challenging part. There are some firms out there all claiming to be best. However, one name stands out, Bradley. The term Bradley is synonymous with food and meat smoking products. The Canadian company is best known for their electric smokers that use briquettes to produce smoke. Therefore, when it comes to smoking products, you can never go wrong with Bradley. The following Bradley electric smoker reviews will help you make the right choice in that regard.
Recommended Bradley Smoker Reviews
Bradley smokers are all unique in their own way, and it is sometimes challenging to choose between them. However, we have made your job easier with the following review of the best smokers.
Number 1: Bradley Smoker
Bradley Digital 4-Rack Smoker: My First Choice Of Electric Smoker
The materials used to make Bradley Digital 4-Rack Smoker are of the highest quality. That is not all, this smoker is quite easy to use and has all of the most important features. It will not be any matter whether you are an accomplished chef or a beginner.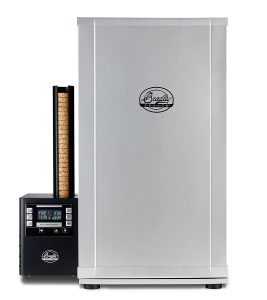 This smoker comes with the benefits of digital technology providing you with that extra sense of sophistication and modernity. Bradley Digital 4-Rack Smoker has good digital controls that ensure efficient management of temperature, time and smoke. Therefore, you can determine the period at which you want your food smoked, as well as, the temperature.
Furthermore, the product's smoke generator helps rid any unwanted changes in smoke production that may affect the flavor of the food. Research shows that cooking food through smoking get rid of the oxidation process, thereby, prolonging the time at which the food stays from becoming bad.
Pros
The four adjustable cooking racks ensure that you have adequate space to do your smoke cooking.
It is an economical product with excellent features and performance.
It is easy to use to use, clean and maintain.
The product's interior is fully insulated meaning that the heat is kept constant for an extended period.
One of the standout features of this smoker is its digital control. This feature ensures that the user retains more control on the smoke setting, heat, time and smoke setting.
Cons
One of the problems of this smoker is temperature deviation.
Some reviewers have said that it does not maintain temperatures of 200 degrees F especially when it is cold.
Original Bradley Smoker Number 2
Bradley Smokers Original Smoker
This product comes without a digital thermostat. It only has a smoke generator and a loading cabinet. The smoke generator produces flavorful smoke from the bisquettes . Bisquettes are compressed wood chip that are efficient sources of energy, smoke, and flavor. Bradley Smokers Original Smoker demonstrates the company's commitment to quality products. Some features including the following.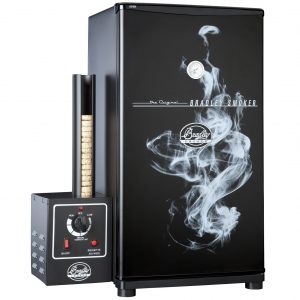 Fair price
The product is moderately priced and has two heating elements that ensure the firing of bisquettes and temperature controls.
Temperature controls
The Smoker has temperature controls that are simple to use. Anyone can use the product without any problem. Furthermore, the product can be used for slow cooking and roasting.
When it comes to durability, the smoker has a stainless-steel interior. This guarantees that the product will provide a considerable period of use.
Pros
Reaches a high of 350 degrees in temperature. This is what other models achieve.
The advantage associated with this factor is that it can take care of the heat lost to the environment.
The feeder and the bisquettes produce a stable smoke and heat not seen in most other products.
The price is perfect for this product in comparison to the others.
Cons
The product is without thermostatic controls, as well as, an accurate thermometer.
Lacking thermostatic controls call for an effective thermometer. Therefore, the fact that these critical elements are missing is a kind of a disadvantage.
Top 3 Bradley Smoker
Bradley BTIS1 Original Fully Automatic-Bradley digital 4-rack smoker
Like most Bradley products, Bradley BTIS1 Original is a quality smoker. It is easy to use, and beginners in the art of cooking would find it quite useful. The best thing about this product is that it burns bisquettes for about 20 minutes consistently.  It has both the cold and hot smoking.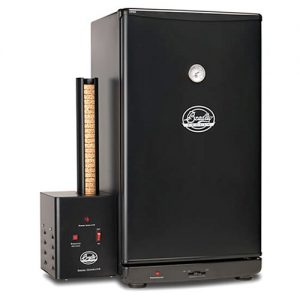 Adequate space
With a 2,288 cubic inch internal space, Bradley BTIS1 Original has enough room to hold a considerable amount of food. In that regard, it is an excellent piece of equipment perfect for big families and parties.
Temperature control
Bradley BTIS1 boasts a 500-watt cooking element.  The smoking element is 125 watt and can run for up to 8 hours without the need to refuel. All this together with the ability to regulate the temperatures makes it a desirable product for all levels of users.
Pros
It is easy to use and regulate the temperatures.
You can use the smoker as a slow roasting oven.
It is durable given that it is has a steel construction.
It is also possible to smoke at high, as well, as low temperatures. It all depends on
Cons
It takes up to one hour for the smoker to adequately heat up. Furthermore, if the door is opened, this time increases.
Final verdict
Bradley electric smokers are great cooking tools that will retain the natural flavors of food, and the energy source is neutral. This means that unlike other smokers such as wood that leave a particular flavor on the food, Bradley smokers are quite clean. Therefore, each of the above models is great picks. It will depend on features that you deem useful.
We have written some quality electric glassdoor electric smoker review, You can also check.
The above Bradley Smoker highlight the fact that each of these products is high quality, durable, easy to use, full control, and keeps the food moist and tender. More importantly, you will cook like an accomplished chef with the easy to operate controls.
Contact us if you need any more info.