One of the best thing about this old smokey electric smoker is it won't break the bank, but gives decent performance overall.
This simple operational electric smoker comes with two cooking racks, smoking chips, drip pan and carrying handles. This is a somewhat durable electric smoker with its corrosion-resistant aluminium steel body. It features a good quality electric heating element and adjustable heat control.
The food came out of it was fully convenient and satisfying and had the traditional test, even it's being a modern smoker.
Some unique feature of old smokey smoker:
Flat sealed top:
One of the best feature of old smokey smoker, that makes this better from others is it's sealed flat top. This thing ensures that the juice of meat drip down back onto it, not falls outside. This makes the meat more juicy and tasty, and the food tastes pure organic like it was cooked it a traditional smoker.
The lid to this cooker seals very tightly during the time of cooking so that all of the flavor and smoke will remain inside. This also shortens the length of your cooking time.
It also makes the cleaning process easier as the juice doesn't get a chance of making it dirty by falling on the outside part of it.
Tray for wood chips:
Over the heating element, there is a tray for wood chips, to initiate the smoking process. This ensures that you get that wonderful smoky flavor from the food. You just place the chips on the tray, and watch it smoke. At the time of eating you'll definitely feel how well it pours the flavor into the food.
Compact and Simple Design, fits in small kitchen:
This old smokey electric smoker is a very compact and simplified one regarding design. Old smokey has given it the simplest design possible. It uses only a cylindrical shape with two racks inside it, along with the heating element and the wood tray over it.
And the smoker is compact and lightweight outside, measuring just 15.5" X 15.5" X 29". And it weighs about 25 pounds. It's easily moveable with its carrying handles.
Though its compact in size, it has a good 280 square inches of cooking space, and two racks make it well decorated. Each of the racks could hold around 8 pounds of brisket or 10-pound shoulder of pork.
Other things to talk on:
This old smokey electric smoker is decent durable. It's corrosion-resistant aluminized steel body is tough. Consumers have mentioned that they've used this for long and still it gives decent performance.
The smoker is easy to operate and maintain. In fact, simplicity is a thing that is written all over it, regarding operation, design, cleaning and so on.
This little smokey smoker features a heating element that you would find in your electric oven. It is controlled by a heat thermostat, giving you the freedom so you can use a variety of cooking style and times. The temperature goes up to 250 which is decent for meat, fish and other. But not for poultry.
This unit has some little safety features like fireproof and heat-resistant handles and some other little features. It might not sound major but a lot of people worry about these little things to stay fully safe. But buying this unit will keep you free from this tension.
This Old smokey electric smoker is easy to assemble, and the given instructions are clear.
I'd like to suggest to buy a temperature gauge with it, as there ain't one by default. It's a bad side of this smoker, though you can easily overcome it by getting an additional temperature gauge with it, which is not expensive. Having a temperature gauge will give you control over the whole cooking process.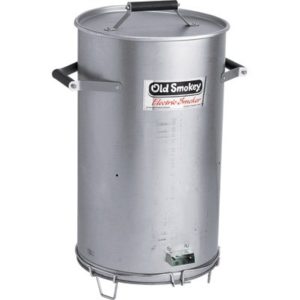 Pros and Cons of this old smokey perfect smoker:
Pros:
Very simple smoker regarding everything, from cooking to cleaning. Very easy to operate.
Requires minimum supervision throughout the smoking process, and you can even go to shopping after plugging it in. (though I don't suggest so, lol!)
Sealed flat top design allows even distribution of heating and no loss of smoke, along with ensuring juiciness of food.
Small and compact sized, lightweight, has carrying handles for easy portability.
Well decorated inside with two cooking racks in the 280 sq. inches cooking space.
Somewhat cheap and very affordable, performs amazingly comparing to price, full value for money.
Cons:
Doesn't have a built-in thermometer. I suggest buying one separately(which is not expensive) to overcome this issue.This is the post where you can find some good quality thermometer review.
Outside part also get heated during the cooking process. You don't wanna touch the body while cooking. Move this with the handles.
Verdict:
Old smokey electric smoker a low-priced and high performance proving compact electric smoker, that ensures smooth smoking and tasty food. If you are a bit low in budget, yet want something that will handle your smoking needs well, this smoker is the best electric smoker for you and it's a definite go.
Save