Wood pellets have a wide range of application in household. Out of house, they're often used to generate industrial energy whereas in household they're mainly used for cooking & smoking. Now, to get the best heat for better cooking, choosing the best wood pellet is very important. No matter how good & expensive pellet smoker you've got, if you can't feed it with the best wood pellets for smoking, you're not going to be able to extract the best performance out of your smoker.
That's what this piece is focused on. This research piece is aimed to help you to make a better decision over selecting the best wood pellet for the smoking need of yours.
The Problem You face:
-Do you know what does it mean when they say 100% hardwood?
-Do you know which one is better? Softwood or Hardwood?
-Do know which variety is good among all the varieties of wood pellets?
Numerous other questions like these will block your path of choosing the best wood pellet. Sometimes, the technical jargons used in a wood pellet can be very confusing, making choosing the best wood pellet a daunting task. But above all these, the best confusion people get in is softwood or hardwood, which is a go? The answer is below.
Softwood or Hardwood?
This is a never-ending debate in the era of wood pellets. These pellet types have differences between them, both got good and bad sides, both got their unique traits. Now, let me not decide which one will be good for you. Let me tell you good and bad properties of both types and you yourself, do the selection considering your demands from the pellets.
The first and foremost difference between these two is the softwood is generally lighter than the hardwood ones, which means you'll get more pellets in a pound of softwood pellets compared to hardwood ones. With this extra volume, you'll get 10-20% more BTU (British Thermal Unit) per pound from the softwood pellets comparing to hardwood ones.
The softwood pellet also generates less, lighter ash because of the lower density of wood.
Whereas, the best feature of hardwood pellets is they provide a cleaner and stable burn and generally produces a better aroma. But because of their density, they produce denser and heavier ash than softwood pellets. Though still after that many people go for hardwood because of the nicer aroma they provide, which they think worth the hassle.
So, in a glance,
Softwood Pellets: More in volume in a unit, More Heat, Lighter ash.
Hardwood Pellets: Stable burn, Nice aroma they provide, Heavier ash.
Decide depending on what you need and which drawback you can live with.
The Top 5  Best Wood Pellets For Smoking:
Now, let's look at the top 5 wood pellet options that you might consider buying. These are picked by my experience with pellets and consumer reviews. Before jumping into that, would you like to know what makes a wood pellet good or bad?
"Purity". Wood pellets are really not that complicated to judge. The easiest way you can determine a pellet quality is by smelling it. A good pellet made from pure wood materials is expected to have a fresh, pleasant wood smell. If you notice any strange odor, commonly of paper and cardboard, you may avoid buying those pellets.
Anyway, now let's look at one of the best wood pellets to buy –
Number:1
1.CookinPellets 40 PM Perfect Mix Smoking Pellets: Editor choice the best wood pellets for smoking
CookinPellets.com is a major retailer of cooking pellets who are specialized for hardwood pellets & this is a perfect hardwood pellet by them.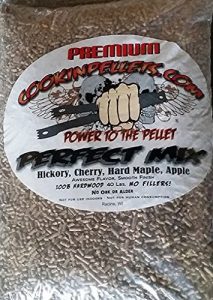 The 40PM Perfect Mix is one of their best smoking pellet made from a premium exclusive mix of the 4 best-quality and most-popular hardwoods available: Hickory, Cherry, Hard Maple, and Apple woods. And they guarantee that they never, ever use oils or filler woods like oak or alder. They also use only the heart woods (center of the log) to make their pellets, never any bark, so no compromise whatsoever with quality.
Being a hardwood pellet, it really does it's job perfectly to give you a great flavor & aroma.
This pellet gives you the best aroma & flavor that you can cherish for.
Talking about the company, CookinPellets.com have maintained their reputation in the industry with products that perform as the company claims. They make no fake promises so they're  trustable manufacturer
If you are a softwood pellet lover and have made up your mind to buy a softwood pellets only, I recommend you to give a second thought with this pellet which will really add some extra flavor to your food. This is a pellet that burns & smoke great and has fully satisfied most of their consumers.
Pros:
100% hardwood, made from the mix of 4 top-quality hardwoods.
Great aroma, enhances the flavor of cooking.
Provides stable burn.
From a trustworthy manufacturer, the product performs as promised.
Cons:
Produces denser ash as waste, just like all other hardwood pellets.
2
2.CookinPellets 40H Hickory Smoking Pellets:best bbq wood pellets
The product is little different but the manufacturer is same here, so you can expect the same quality from the 40H as the 40M perfect mix wood pellet. The difference of 40H with 40M is it's not a mixture of various types of hardwood, rather it's made from 100% hickory wood as raw material.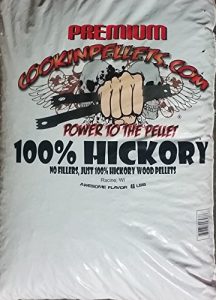 You'll see many people prefer hickory for barbecue and cooking because of its strong release of unique flavors. Many people especially like the flavor it adds. The 40H, being a 100% hickory, does the job of flavoring your food perfectly.
Now, there are a lot of other hickory pellets available in the market, so why the 40H from CookinPellets.com? Well, to get your expected flavor from the food, you need a pellet that is 100% of the wood named. You'll see a lot of pellets in the market that has a mixture of woods in the pellets, but the ratio is not mentioned there. So you don't know what percentage of the wood named you're getting from the pellets, and that's why you often lack the flavor you expect.
So you need a pellet that lets you know exactly what material it's made from. That's where CookinPellets.com has maintained their quality till date. They say exactly what's there in the pellets. If they say it's 100% hickory, it's 100% hickory then.
Pros:
A unique aroma that you'd expect from a hickory pellet.
100% selected & fully pressed hickory material
Provides consistent burns and High BTU.
High-quality manufacturing process and raw material selection
The trusted manufacturer with insurance of quality.
Cons:
Produces denser as just like another hardwood pellet.
3
3. Traeger PEL319 Hickory Pellets:
Traeger is another trustable name in smoking and cooking industry and they have contributed a lot here with great grills and other products. The PEL 319 Hickory Pellet is another great product that Traeger manufacturer in USA. This is a 100% hardwood hickory pellet that burns well and provides a great flavor to your food.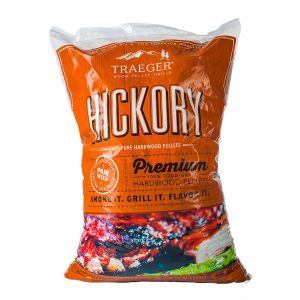 Traeger claims that this is 100% hardwood, and they aren't lying. Most of the consumers mentioned that they got proper flavor from the pellets.
This pellet do last long for longer cooking need, burns consistent and clean and provides consistent heating with great BTU (heat measuring unit). It provides more BTU than other pellets so a lesser volume than others will do the job for you, and thus it's cost efficient. This is an FDA approved pellet and it's certainly good enough to get your job done.
Pros:
100% hardwood materials
Produces more heat than other pellets with the same volume
Cost efficient.
Comes from a trusted name in the industry.
Cons:
May have oak or alder filler, in a very little amount, which is a comparatively lower quality hardwood.
Produces denser ash being a hardwood pellet.
Number:4
4.BBQrs Delight Wood Smoking Pellets:
If you are looking for a flavoring pellet with your regular fuel pellets, then this is the best you can get. This is a package of 6 most popular flavoring pellets, which includes 1 pound bag of each flavor Apple, Mesquite, Hickory, Pecan, Cherry and Jack Daniel's. It's compatible with any type of outside grill, be that gas, charcoal or electric.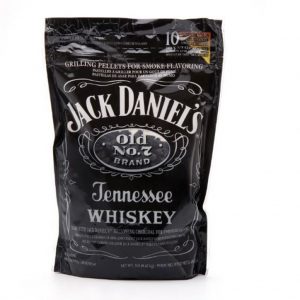 The apple pellets are made of 100% Apple wood which will provide sweet, fruity smoke. Apple is the strongest of all the fruit woods when it comes to flavoring. These pellets are perfect for grilling beef, poultry, ham, pork, fish or wild game.
Hickory pellets are also made of 100% hickory and it is one of the most common and popular smoke wood pellet used in barbecuing. They can produce a really stronger flavor that complements all meats.
All the other wood pellets are also made of 100% of the wood named.  The Cherry pellets give you a mild sweet fruity smoke which gives a rosy tint to lighter meats. The Mesquite pellets are here to produce a very distinctive smoke and give you a stronger smoke flavor while the pecan pellets will you a very similar flavor like hickory, but milder and sweeter with a nut after-taste.
For most cooking events, you'll need only 1/3 of a cup of pellets. You can have 10 uses from each pack in this way. So with this package, you can deal with 60 cooking events. That's a good return for the money.
Pros:
Various & strong flavors you are getting.
Each of the pellets is made from promised materials.
Let's you experiment with different flavors.
Cons:
Quantity could be a little more for the price.
5
5.Traeger PEL309 Cherry Barbecue Pellets:Best Softwood Pellets
This is another good product from the trusted name in the industry – Traeger. This is a cherry barbecue pellet that is made from 100 percent natural hardwood which contains no fillers or additives. This cherry barbecue pellets produce very little ash, unlike other hardwood pellets. Yet it provides clean burning and good heating.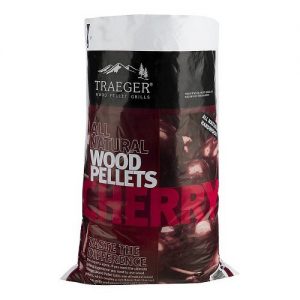 You'll get a good & rich cherry flavor from these pellets, unmatched by regular charcoal. And as I mentioned, it is specially designed to produce very little ash to make cleaning job easy for you. These pellets burn cleanly and they are safe for the environment.
Pros:
Good heating & Safe for the environment.
100 percent hardwood.
Less ash it produces unlike other hardwood pellets
Cons:
The cherry flavor is not that strong, it could be better.
Wrapping Things Up:
So, there you have it. These are the best contenders for the best wood pellets in the market right now. You may pick one of the these upon your demands. If you need any further help, don't hesitate me to shoot your questions in the comment section below. I'll be happy to answer them.
Happy Cooking.