Are you thinking of buying a new smoker grill combo to cook up some sizzling chef-quality beef, pork, and vegetable recipes?The right grill makes all the difference.
But with hundreds of smoker grill combos on the market all claiming to be the best, how do you choose? To narrow down your choices, we've selected what we deem to be the best combos for serious grill masters. Let's get cookin'!
Fire Up the Flavor: Best Smoker Grill Combos
Here's our shortlist of the best smoker grill combos for 2019.
1. Weber Original Kettle Premium 22″ Charcoal Grill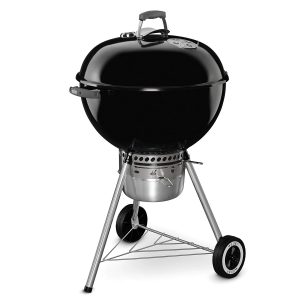 The Weber Kettle is a household name to grill masters on a budget. But what you might not know about this classic grill is that it transforms into a top-rate smoker.
The Kettle is inexpensive and comes in a variety of sizes such as the 22 inch and 26-inch models. But if you're using it as a smoker, it's best to stick with a medium or larger model.
The Kettle is made from durable construction with coated pressed sheets of steel and porcelain enamel. The enamel helps protect against rust if you forget to put the cover back on.
This light and portable model maintains exceptional heat control, consistent temperatures, and is conservative on fuel. Its two attached wheels make it easy to pack for a family camping trip or a trek outdoors.
2. Camp Chef Deluxe Pellet Grill with Sear Box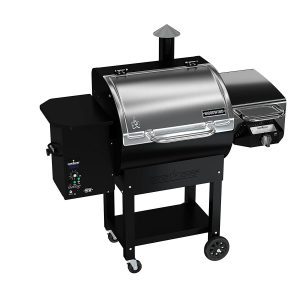 The Camp Chef Deluxe is a versatile and convenient pellet grill that doubles as a smoker. This model runs on electric, but also produces smoke when you burn wood pellets.
Similar to an oven, you can preset temperatures on its thermostat to between 175 – 400 degrees Fahrenheit.
Other pre-sets include "high," "low smoke," and "hi smoke." The Camp Chef can easily maintain a consistent smoking temperature of 225-250 degrees consistently for several hours.
This grill combo provides a great middle ground for good excellent quality and value. With 429 square inches, you can cook with multiple racks simultaneously.
Attach the Sear Box to the smoker and crank up the heat to searing temperatures up to 900 degrees. What makes this nice is the smokestack is in the back, so you have more space to work on your right side.
3. Camp Chef PG24 Pellet Grill and Smoker BBQ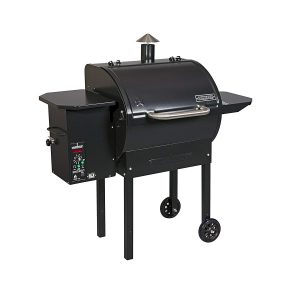 Camp Chef PG24 pellet grill and smoker come with added features at a great price, including state-of-the-art and precise dual temperature sensors. The ash removal system does a lot of the dirty work for you.
Other great functions include the accurate meat probe and the built-in cooldown function. This smoker grill combo makes it simple to maintain the ideal temperature, even for a novice griller.
This grill gets the job done, is designed well, and is affordable compared to other pellet grills.
4. Char-Broil Oklahoma Joe's Charcoal Gas Smoker Combo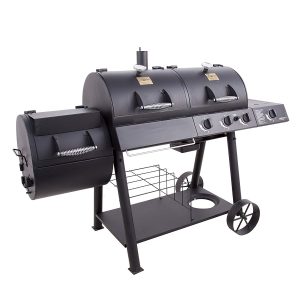 Built like a tank, this 200-pound grill is constructed from heavy gauge steel construction that's made to last. The cooking surface boasts 1,060 square inches, offering the ability to handle cooking for large parties.
This model emits massive firepower with 12,000 BTU burners and an added side burner. Use either charcoal or gas depending on your menu, or use propane to put the pedal to the metal.
Some of the downsides we noticed were the wheels don't have much use, so it's better to keep the grill stationary. There were also a few leaks around the lid, but sealant will take care of leakage.
If you're looking for a heavy, well-constructed smoker grill combo with lots of room, this is an excellent choice.
5. Smoke Hollow 4-in-1 Gas Grill and Charcoal Smoker
This Smoke Hollow model is perfect for grillers who like to multitask and cook several food items at once. The Smoke Hollow 4-in 1 offers four cooking options in one grilling machine.
On its surface, you can barbecue huge amounts of food. This makes it the ideal grill smoker for large gatherings with families and friends around holiday time or anytime.
The grill's three individually-controlled burners light easily with electronic ignition technology. There's a large infrared side sear burner and a cast iron grid coated with porcelain.
Use the smoker firebox to do some indirect cooking while you utilize the Infrared searing burner for searing your meat. The porcelain-coated grid works great for grilling vegetables.
The Smoke Hollow 4-in-1 Gas Grill and Charcoal Smoker contains two lower shelves and two condiment racks for food storage. It has removable grease and ash pans making an added bonus when it's time for cleanup.
This grill combo model is durable and built well. It's a reliable and efficient smoker grill combo for the whole family.
6. REC TEC Wood Pellet Grill Smoker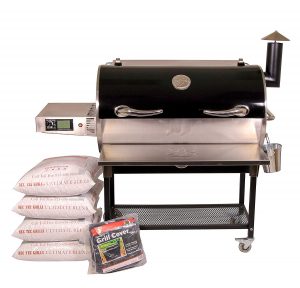 Last but definitely not least, this beautiful smoke grill combo offers everything you'd want in a world-class, high-end grill.
Just shy of $1,000, this hopper holds an entire 40-pound bag of wood pellets. This means you won't have any bags lying around.
The gigantic cooking surface is big enough to cook up to 5 full racks of baby back ribs and four 12-pound turkeys simultaneously.
What's great about the Rec Tec is the hopper won't jam up like many other wood pellet smoker grill models. And the easy control system provides the ability to maintain a consistent, even temperature from 180 degrees to 500 degrees Fahrenheit.
Unlike other grills, the Rec Tec comes with a 6-year component warranty. The king of grill smoker combos, this model embarrasses other grills.
The Takeaway on the Best Smoker Grill Combos
Now you have six excellent choices in smoker grill combos that vary in price and function. Happy Grilling!
Our company provides barbecuing products, education, and tips for grill enthusiasts from novice to veterans.
Visit our website today to learn more.