It is quite a beautiful and a very appealing grill which looks amazing in the outdoors.amazing for holding functions and small family gatherings. Quite a big model compared to all the other similar cooking equipment, measuring 62.5 inches by 37 inches by 22 inches. You really get value for your money when it comes to size. It is purely made of steel, rusting will never be an issue. It weighs a little bit more but has wheels to make it more portable. It is also quite easy to set-up and assembles, averagely it takes you around 25 minutes to complete set-up and start using. It includes 4 burners which I found to be very awesome.
Performance
When using the Griddle side you get so many square inches to use, 604 to be exact. If you decide to use the grill side, you still get a large surface of about 501 square inches. Its heat output is adequate because both the grill and griddle are made of cast iron. They are very quick and their heat dispersal is very fine. Changing between the two is also quite easy, you just flip sides and are good to go. The taste of the food was also satisfactory from steak, ribs, and bacon to eggs and chicken. My whole cooking experience with it was just great and I felt like a real chef for a moment or two. What really stood out is the thermometer, though not digital it is very accurate. I did not expect it to be so accurate.
Everything has its downside and the camp chef top grill has just one. It may be a little bit difficult to clean. Some debris sticks to it while cooking, and can be very strenuous to clean. Although it has an easy to clean grease tray, they did not consider the cooking surface.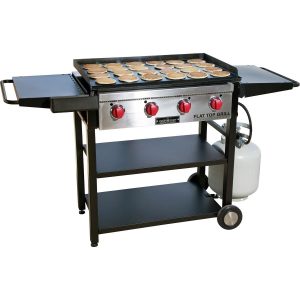 Pros
Cast iron grill.
Huge flat interchangeable top.
Large griddle surface.
Quick ignition
High heat emissions
Easy assembly
Nice wheels.
You can quickly interchange grill and griddle.
Cons
Cleaning is a little bit difficult
Summary
It is a classic cooking equipment at a very affordable price, and everyone should totally have one. It is very durable and truly worth its price. For a relaxing time and family activity, it is your best choice. Highly recommended due to its size and the high temperatures it achieves. Its capability for heat retention is also quite impressive. You should get one, and start cooking today.
The additional accessory you can buy with this smoker:
Blackstone 28 Inch Grill and Griddle Cover (Fits Similar Sized Barbecue)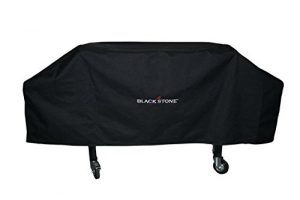 Made with heavy-duty polyester and poly resin for a more durability. It has dimensions of 45 inches by 23 inches by 25 inches and covers the Camp Chef beautifully. It will really help protect your grill from the elements and keep it looking clean.
Pros
Highly durable.
Weather resistant.
Large size.
Works on other barbeques and grills.
Cons
Conclusion
It is really good if you want to protect your grill from all the weather elements. It is guaranteed to serve you well and keep your grill highly maintained.
More accessories
Blackstone 28 Inch Grill Top Accessory for 28 Inch griddle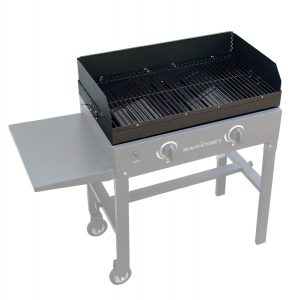 It is perfect for cooking outdoors and on the go. It is very high quality and a good accessory to the 28-inch griddle. It has a large cooking top of very high quality made of steel. Suitable for making breakfast and burgers for both small and large families. It actually contains two very independent burners. You can cook with both at different temperatures simultaneously. It can be folded very easily making it highly portable. Very easy to clean and does not require regular cleaning. It is built from cast iron steel and is very efficient. It has wheels making it easy to move from place to place without actually dismantling it.
Pros
Very portable.
Made of pure steel.
Cook at different temperatures simultaneously.
Can be folded.
Easy to maintain
Cons
You need the griddle to fully maximize it.
Conclusion
It is a must-have accessory to compliment your grill. You can as well use it purposefully for breakfast and barbeque if you do not already have the griddle.