Thinking of getting a smoker for your home or outdoor?
Your first time buying a smoker, or maybe you're looking to upgrade?
What's the difference between a griller and a smoker?
How does one know which is the best outdoor smoker to buy?
Many are confused and bewildered by the hundreds of available smokers today. You'll find that there are different types of outdoor smokers, from water smokers, propane and charcoal smokers, each with their own pros and cons. This article aims to help you get the best smoker, and by best, we mean a reasonably-priced outdoor smoker that's right for you and suits your family's needs.
There's something about the smell of food slowly roasting on untamed fire that appeals to us all. Set in the spirit of camaraderie and of partaking under the naked sky, the ritual of barbecuing harkens back to the days of our earliest ancestors. Today, smoking has become so popular that there are now TV shows dedicated to teaching aspiring cooks on how to best prepare their meal. You can bet that there are a lot of people in your neighborhood with their own smokers, filling the weekend air with fragrant roasted meat and vegetables.
The best smokers of today won't require you to sit beside your smoker for hours on end. Smoking tasks are all automated- no more adding wood, shoveling coal, checking the temp or opening the lid every few hours. You can prep the smoker, put the food in and not worry about whether you'll have an undercooked or overcooked meal after a few hours. All these conveniences come with the right equipment! Are you ready to learn and get yourself a new outdoor smoker?
In the article, I've included-
√ The difference between a grill and a smoker
√ The 5 best outdoor smokers that you can buy now
√ A guide on how to pick the best outdoor smoker
Grill VS Smoker
First off, you should know that a grill isn't the same as a smoker, but a smoker can be used as a grill. A grill is a nimbler version of the smoker in that it cooks your food much faster than a smoker can. Grills do this by cooking at a higher temp (somewhere around 350 degrees) on a shorter duration. Some grills can be turned into a temporary smoker when they put the heat source on one end and the food at the other end, all the while controlling the temp. Smoking on a gas grill is an impossible task- don't even try to attempt it.
The philosophy behind the smoker is "low and slow". You put the food inside and set the temp anywhere between 225 and 275. Then, you wait anywhere from 3 hours to 15-plus hours before taking it out the oven. You can put in fuel sources such as wood pellets, gas, charcoal or electricity, then control the oxygen content inside to achieve a consistent low temperature.
Our Recomend: Top 5 Best Outdoor Smokers
Number:1
Weber Smokey Mountain Series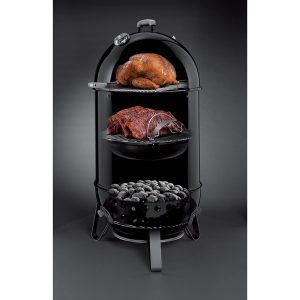 Weber Stephens is the name behind this prestigious brand that started the whole trend of grilling and smoking. The pedigree behind their number 1 Charcoal Smoker is astounding- the company has been in the smoker business since 1893!
The Smokey Mountain Series comes in 3 sizes. The 14.5″ is perfect for those who are living in limited spaces, i.e., subdivisions, apartments, and condos. The 18.5″ is mid-size that acts as the bridge between the 14.5″ and the 22.5″ Smokey units. The 22.5″ is the biggest entry, perfect for smoking ham, roasts, turkeys upwards of 30 lbs., while still being portable enough to bring on camping and weekend barbecues.
The aluminum pan design keeps your meat juicy. Each Smokey unit comes with a high-end, ultra-accurate thermometer that doesn't need to be replaced. The manufacturers have made the handle and the bottom shield heat-resistant and made of safe nylon materials.
Pros
– Lightweight, easy to maintain and clean.
– Temp control is straightforward.
– High-grade construction overall, i.e., cover, thermometer and water pan are top notch.
– Made to barbecue, grill, smoke, etc.
– Individual vents located on bowl and lid for easy access to food as you smoke.
Cons
– Somewhat limited cooking space.
Number:2
Masterbuilt Cookmaster Propane Smoker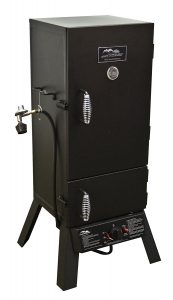 This smoker is a must-have if you're leaning towards an electric or gas-type unit. What's great about the brand is that all their smokers are built to last!
The 30″ smoker unit with 717 in. of cooking space should be well enough to hold cook-offs and BBQ events for more than a dozen guests. If you're really looking for premium space to roast a couple of pigs or turkeys simultaneously, then the 40″ model with 1,300 sq. inches of cooking space will allow you to smoke anything up to a huge woolly mammoth. The included temperature is laser-like in accuracy. Just choose the temp you'd like to cook in without worrying about charcoal. A cool-touch handle acts as the main lock for the smoker.
The insides are insulated to keep the heat as long as possible. A tank of propane can last at long as 24 hours with the Masterbuilt Cookmaster. Plus, you can cook anytime during the year, whether in the autumn or summer.
Pros
– 2 sizeable options to choose from: a 30″ or a 40″ smoker.
– Has one of the most generous cooking spaces among the 5 smokers in the list.
– Excellent insulation will allow owners to cook even in colder weather.
– Has a push-button igniter.
Cons
– Cover is not included.
Number:3
Camp Chef Smoke Vault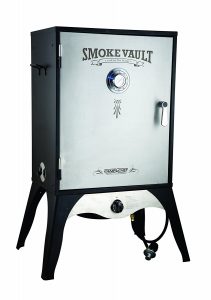 The brand mainly specializes in cooking supplies and high-end cookers. The Smoke Vault Propane Smoker has caught our eye and it earns a prestigious spot in our top outdoor smokers review.
Choose between the 18″ or the 24″ variant, depending on your smoking purpose. The 18″ is an excellent-sized smoker as it can fit in a whole turkey with room to spare. The 24″ smoker can be made to cook 2 large turkeys simultaneously. Both have water pans, steel wood chip trays, accurate cooking thermometers and adjustable heat controls. You can choose from a wide array of available accessories such as rib racks, turkey cannons, roaster racks, patio covers, etc.
One of the most defining features the Camp Chef has is that it can hold low temps for hours at a time and still go up as high as 400 degrees if you want to.
Pros
– Use a standalone gas or LP for when you need to bring a reliable smoker to a tailgating party or camping.
– Assembling the Camp Chef is nice and easy.
– The porcelain base tray is removable for quick clean ups.
– 3 damper vents to control heat circulation and smoking temp.
– Protected burner drums for a tighter heat control.
Cons
– Metal is not reinforced, so smoke in extreme weather with caution.
Number:4
REC TEC Mini Portable Pellet Grill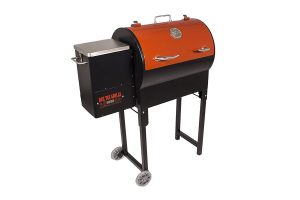 The word "mini" is just part of the title. In reality, you can use this excellent smoker to simultaneously smoke 3 full slabs of ribs, or even a whole turkey!
The Mini Portable from REC TEC encompasses a 19″ x 38″ generous cooking area with more than 9 inches of headroom. You get excellent heat control as well- set the temp and it will stay more or less the same, give or take a couple degrees. This smoker unit can get hot to a temperature of max 550 degrees to do grilling functions such as roasting chicken, etc. Start up the grill, and in just 4 minutes you'll have a satisfactory temp of 225 degrees.
The Smart Grill Controller in each REC TEC maintains temperature all throughout the grilling or smoking process.
Pros
– Has a heft of 99 lbs, which makes it a sturdy choice.
– The folding legs allow you to roll the Portable Pellet Grill like luggage.
– Built with 340 stainless steel.
– Can hold up to 15 lbs. of wood pellets for 12 straight hours of non-stop smoking.
Cons
– The small wheels aren't built for rolling in rough surfaces such as asphalt, gravel, etc.
Number:5
Masterbuilt 40″ Stainless Steel Digital Electric Smokehouse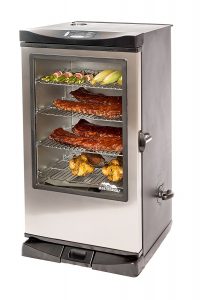 Expect top quality workmanship, a solid construction, and reliability when you're going for a Masterbuilt brand.
This smoker unit is the first of its kind in the digital electric variety, and up until, today is one of the best smokers for outdoor cooking. You can choose from the 30″ or the 40″ variant. A wood chip dispenser is available should you prefer pre-soaking your wood chips for that distinct flavor. Turning on the dispenser handle will require you to load up a cup of chips into the pan. It's a convenient way to add wood chips without having to open the smoker every hour or so.
The stainless steel construction screams top class. The grills themselves look and feel solid. Beginner smokers will find a lot to like here as they can start cooking with little to no help required.
Pros
– Rear-mounted grease trap and a removable drip pan make cleaning up easy.
– Comes with 4 adjustable smoking racks.
– Has a remote controller.
– Quality and construction is undeniably high-end.
– Ultra-accurate thermometer and a built-in meat probe.
– Easy to assemble.
Cons
– The window needs cleaning up after each smoking session.
How To Pick The Best Outdoor Smoker
Vertical or Horizontal Style
You can choose between vertical or horizontal smokers, and each one has their own pros and cons. Vertical smokers are space efficient and they are naturally better at maintaining optimal temperature because of their air circulation. Vertical smokers are the best when it comes to budget. The only caveat here is that you get a limited amount of space for cooking meat.
Horizontal units can smoke hundreds of meat simultaneously. These smokers usually have offset smoke boxes that can smoke meat for days on end. The only downside to a horizontal smoker is that it's impractical for small families and single individuals.
Smoker Size
The size of the smoker should largely depend on the size of the food you'll usually cook in it. The typical usage should dictate this aspect, plus a few inches for good measure. You'll want a smaller smoker if you plan on using it for traveling or tailgating. Easy setup is also a nice bonus to have.
Determining The Heat Source
Smokers can be fed a variety of heat sources. Some of them include wood pellet, propane/gas, wood/charcoal or electricity. The only difference between these sources is the amount of control you'd like to exert as you smoke food. While you can certainly use fuel sources such as gas or ordinary wood, others would add in fragrant wood chips and logs on to the heat source for added smokiness and exceptional flavors.
Smoker Cost
If you're on a budget, then you won't go wrong with the Weber Smokey Mountain. The cost of entry is amazing. The construction and detail is exceptional. What's more, these smoker units last a lifetime. It's a great choice for beginner smokers and veterans alike. You'll enjoy smoking so much that you'll want to use it more!
Thermometer Problem
An accurate thermometer is an indispensable part of smoking. Its virtues are many- a good thermometer maintains the correct smoking temperature, which is essential if you're looking to make fermented or perfectly smoked sausages, jerky or dried fish.
Regardless of any smoker you choose, remember that the best part of acquiring a smoker is the chance to have a good barbecue with friends or family. Enjoying each other's company on parties and weekends, on top of eating really delicious food is part of the whole smoker experience!