Are you one of the people who like smoke-flavored meals? Well if you are, it's no doubt that you need to have the best smoker with you for an unbeatable taste. The only challenge you might face when looking for the best smoker is that there is a variety of smokers in the market that may get you confused, but not anymore after going through this guide. At first, we will need to take you through the process of buying a smoker, and what you need to consider:
Having gotten an overview of what you need to keep in mind before you buy a smoker, it's worth having a look at one of the smokers we think offers excellent smoking results for a considerate purchase price:
Smoke Hollow 26142E Electric Smoker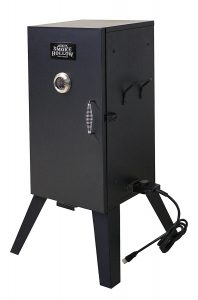 The Smoke Hollow 26142E Electric Smoker is a high-quality product, whose fully welded steel cabinet is a guarantee that you can rely on the product for long hours of cooking without failure. The electrical smoker measuring 35.5 x 19 x 16.5 inches features a 1500 watt heating element, which will efficiently cook your food so that the smoke flavor gets deep inside whatever meal you are preparing. A good factor to consider is that you never run out of gas. Besides, a 1500 watt heating element is the perfect thing you need to maintain the temperature of the meals you have in the smoker.
As for the capacity, expect to have a 1.3 cu ft, which is the perfect size when you are not cooking for a large number of people. You won't have to worry about the size of what you are cooking since the chrome plated grids featured in this smoker are of adjustable so that you get whatever height you need when cooking.
You won't have to bother about your food getting too much heat, or not getting the required heat since there is a fully adjustable and removable temperature control to cater for that. Other than the temperature control, there is a commercial quality heat indicator, not also forgetting that a porcelain coated wood chip and water pan have been featured in the smoker, to ensure that you give your smoker what it needs so that it can give back quality results.
Did someone ask about the portability? Don't worry about that, since the smoker has some side handles, in case you want to take it outside and get it back to the house efficiently. We can't leave out the door's cool touch spring handle and a sure-lock latch system to ensure that the door is safely closed. In addition to that, you might want to note that the smoker has adjustable draft controls, a feature that not every smoker has.
Smoke Hollow 26142E
Smoke Hollow 26142E 26-Inch Electric Smoker with Adjustable Temperature Control
PROS
Cleaning the smoker if not an issue.
The smoker is significantly cheap.
It performs better than expected.
You never run out of gas, unless you haven't paid your electricity bills.
CONS
It doesn't provide a modern design
Warranties are limited.
A good Smoker buying considerations:
Cooking capacity:
This may not be much of a concern when the number of people you want to cater for is less. However, if you regularly smoke meals for a large group, then you may consider getting a large smoker to get the job done at once. For a smaller group of up to 4 people, you may want to stick with a smoker whose cooking capacity is not huge.
Portability:
The best place to smoke your meals from may be the exterior. But what if you store your smoker in your house? That may be a challenge if you want to move the smoker to various locations. As such, you may need to go for a smoker that has wheels, or one that has handles to make the carrying easier.
Construction quality:
Many people will normally do away with this feature, but it matters as well. Remember that a higher quality of construction means that the smoker can withstand tough conditions and may last longer.
Temperature range:
There are different ranges of temperatures for smokers, with the most effective range being from 100 – 500 degrees. Buying such a smoker means that you can efficiently smoke your meals without having to spend extended periods while waiting for the food to get ready.
Stability:
This is more of a concern if you are at a location that is prone to be affected by external factors such as wind. In such a case, a smoker with sturdy, splayed legs could be a good choice so that the stability remains high even when the external conditions get rough.
Modification:
When you need to add some features to your smoker, consider getting one that offers you room to make the desired changes. At times it may be something like changing the current thermometer or something more complex.
Cooking shelves:
It's advisable that you look at the cooking grids to ensure that they are of a high quality and that they can be adjusted to accommodate meals of various sizes. That is especially useful when you want to smoke things like large turkey.
Warranty:
This is one of the factors you never want to forget when buying a smoker since you can't be sure of the product being fault-free.
Verdict
If you are looking for an efficient smoker that will surprise you with quality results given the price you have to pay, the Smoke Hollow 26142E 26-Inch Electric Smoker should be worth a try. However, if you need a product that isn't as cheap as this one, and features a recent design, then this smoker is not for you. On the other hand, if you are working on a budget, then buying this smoker is worth every single coin you have to part with.