Traeger TFB29LZA Junior Elite Grill Full Review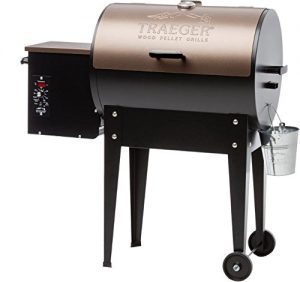 When it comes to shopping for pellet grill, we know it is one of the tedious processes that none of you wants to undergo. But there are other ways you can use to pick the best from the several brands in the market. That is our primary focus in this Traeger's TFB29LZA Junior Elite Grill. We share some information about the features, pros, and cons of the TFB29LZA Junior Elite Grill. We want to help you have the best shopping experience ever.
TFB29LZA Junior Elite Grill buying guide
You probably want to get the best pellet grill from the market but are not sure what to consider for the best product. Below are the features that you should expect in the original TFB29LZA Junior Elite Grill to have.
Digital thermostat
One great feature you should expect the grill to have is a digital thermostat. This excellent feature allows you to smoke and cook your food with no difficulty. The digital thermostat feature lets you pick a particular temperature that will be sustained by feeding pellets automatically as desired. Therefore, the thermostat is responsible for controlling the temperature at which your food is cooked.
LED
Are you wondering how you can read the temperature? TFB29LZA Junior Elite Grill by Traeger features LED screen panel that helps to display the grill's inside temperature. The presence of this LED display also allows you to track the grill's temperature as you cook. This contributes to knowing whether your food is cooking at the right temperature or not.
Check: TOP 10 Best LED GRILL LIGHTS FOR BBQ
Convection Blower
Another feature that you will like about this grill is that the unit's cooking chamber includes a convection fan. The blower helps to distribute hot air in the cooking area and thereby maintaining a constant temperature all through. This assists you to know if you are cooking the food at a steady temperature. If you are looking to cooking at uniform temperature without having to attend to your food all the time, this is your ideal grill.
Steel construction
We are aware that the lifespan of a product is significant. This product is all you need. It features a steel construction that makes it durable. By choosing Junior Elite Grill, you are saving several dollars by avoiding going back to the market soon.
Compact size
This is another thing that you will like about Junior Elite Grill. If you intend to have a grill that you can use on a building balcony, or for your holiday home, you will make the right choice by picking this Junior Elite grill. If the balcony of your house is big enough or has some space, you can use the grill there.
Pros of Junior Elite Grill by Traeger
Durable-We all want to purchase something that will last for a significant amount of time without having issues that will cost some cash. Traeger's Junior Elite Grill is one such product that is durable thanks to its Steel construction. It has a long lifespan that will offer value for your money.
Multipurpose-Buying products for different uses can be a real headache. Traeger Company decided to give easy time by making the Junior Elite Grill that is multi purpose. Whether you are grilling, baking, roasting or smoking, Junior Elite Grill can do all that. You can make your barbeque without having to hire for your friend's electric smoker.
Easy to assemble-Unlike other smokers that are difficult to assemble and time-consuming, Traeger's grill is easy to put together. Once you have everything you need for putting it together, it only takes a few minutes. It does not require a day off your regular work. You can follow the instructions which are provided to make your job easy.
Makes cooking easy-If you thought gas cooking is the fasted and easiest way to cook, wait until you try pellet cooking. This grill by Traeger makes cooking easy and enjoyable.
Cons of Traeger TFB29LZA Junior Elite Grill  
We all have our dark sides, and so it is with this pellet grill. We found in our research that the thermostat of this grill can fail at times causing the temperature to rise and fall.
Our verdict
After thorough research, we have established that purchasing Traeger's TFB29LZA Junior Elite Grill can offer you the value of your money because it is a multi-purpose product.