As the name suggests, the Blackstone 28 inch is for outdoor enthusiasts. Gas grills are increasingly getting popular and will be soon become a must-have for every outdoor party, camping or commercial grilling. This is attributed to their ease of use and of course, nothing brings families together as food and fun, even the sight of food cooking fast is enough.
Blackstone started out in 2005 launching the Blackstone 36-inch griddle that is still a favorite for many outdoor enthusiasts. The 28-inch grill is smaller and more portable than the 36 inches.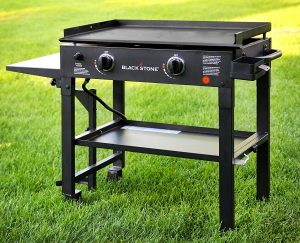 Flat top gas grill Features
The grill offers an electric ignition system, an inbuilt grease dripping pan, folding stands, a shelf and two heavy duty castors. The grill also offers a non-sticky plate that makes grilling efficient and makes cleaning easy. It has two stainless steel burners and it offers a cooking area of 470 sq. inches. The frame is made from black powder coated steel and the cooking surface from cold rolled steel and has a total output of 30,000 BTUs, which is impressive. That is 63.8 BTUs per square inch. That comes from it's two independently controlled stainless steel burners each with a maximum output of 15,000 BTUs.
 Pros 
Easy to clean -Food does not stick to the cooking plate and the black powder coated steel frame is easy to clean after a messy cooking.
Controllable heat output -It has two independent stainless steel burners each with an output of up to 15,000 BTUs. These are fuelled by propane from a standard 20lb tank.
Easily movable -It has four dedicated caster wheels, folds up legs and removable griddle top to make it easy to move it around your backyard.
Electric ignition -It has battery powered ignition. Just push a button and you are ready to go, this will save you some time to enjoy your outdoors more. You will need no more matches and it saves you the stress.
No smoke -Gas produces smoke, buts it's not really visible so smoke won't really be an issue. This may affect the taste brought about by charcoal but it's still a worthy break from the white smoke.
Restaurant grade style of cooking -You can cook everything from the comfort of your backyard. or campsite for breakfast, lunch or dinner and cook everything from potatoes to steak.
As it is with all products made by man there must be pros and cons in everything but we must give credit to the Blackstone engineers for an outstanding innovation and be trying to make a perfect product for everyone.
 Cons 
The grease dripping system may make it a little messy although it is easy to do a post cooking cleaning it would have been better to direct the grease run off to the dripping pan without making a mess.
As it is with all gas and electric grills they lack the much loved smoky taste brought by charcoal although some people may not take it as necessary it's still a huge disadvantage of using gas and electricity.
All in all, the Blackstone 28-inch flat top gas grill is still a worthy addition to your backyard and camping site, it will be worth your money.
Where can I buy this product?