You don't necessarily need to be a master chef to prepare an excellent smoked fish or ribs. What do I mean? With the new digitally made devices like master built 20070311 40-inch top controllers electric smoker with window, you can quickly make your favorite smoked fish. The device does not need much attention while cooking, unlike other methods since it is easy to control the heat temperatures to give a good meat texture. So make your Thanksgiving turkey with this marvelous smoker and believe me you wouldn't be disappointed.
Durability-A real smoker should be made with water-resistant materials like stainless steel such that if the smoker gets rained on or gets wet, it will not rust or corrode. A robust and durable smoker should be able to withstand prolonged usage without getting damaged by the extreme heats from the woods.
Easy to use-Apart from providing a user manual for guidance in assembling and steps on how to use the smoker, an excellent smoker should be easy to operate especially for beginners when it comes to starting, turning off the device and also temperature control. Different meat requires different temperatures when smoking and therefore your smoker should be easy to regulate.
Enough cooking space-Buy a smoker depending on the number of people you have in your family or the amount of meat you will be smoking. So if you have an average or small family, you may consider buying a small electric smoker and for those with large families purchase a large smoker since it is convenient and efficient regarding the fuel to use when cooking.
Easy movement-Smokers are suitable for outdoor use due to the smoke produced by the woods or pallets used, and therefore ensure that the device is made with accessories that enable you to carry it out. For example, the majority of electric smokers are designed with two back wheels and a handlebar whereby you can quickly pull the device out or move it to the required position.
The required watts-Different smokers are made according to different power consumption rates, so if you need a smoker that consumes fewer watts, ensure you check this before you purchase it.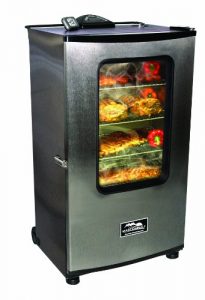 Features of master built 20070311 40-inch smoker:
Thermostatic temperature control.
The smoker has an inbuilt thermostatic temperature control that enables one to regulate the smoking heat from 100 to 275 degrees.
The device has a side loading tray where you put the wood or pallet for burning.
For control purposes, use the provided remote to turn on, off or in regulating the smoking heat too.
For quick and easy movement, tilt the device backward and either pull or push it to the required position using the attached handle. The smoker has back wheels and a handlebar that makes the moving process easy.
Pros:
It is easy to maintain and clean the smoker since the grill racks can be easily removed.
Durability is guaranteed from the excellent stainless steel material used to make the device.
It is easy to use with the guidance of the provided user manual and the remote control.
Cons:
Failure to turn off the smoker may affect it from starting well the next time you use it.
Sometimes the heating elements fail to provide enough temperature during the cold seasons.
Conclusion
It is always advisable that you purchase such devices from a reliable dealer to ensure that you buy the right brand and of excellent quality too.